iPhone 11 Pro Review Roundup: Significant Camera Advancements and Excellent Battery Life
iPhone 11 Pro and iPhone 11 Pro Max reviews are in. The consensus is that the devices are quite familiar and relatively iterative updates as a whole, but with significant advancements to cameras and battery life.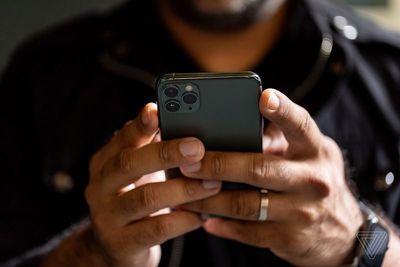 The Verge
Battery Life
Apple claims that the ‌iPhone‌ 11 Pro has up to four hours longer battery life than the ‌iPhone‌ XS, and that the larger ‌iPhone 11 Pro Max‌ lasts up to five hours longer than the ‌iPhone‌ XS Max, and reviews support those figures.
Engadget's Chris Velazco says the ‌iPhone‌ 11 Pro lasted nearly 12 hours per charge, up from 9-9.5 hours with the ‌iPhone‌ XS:
When I tested the brand-new XS last year, it would run for between 9 to 9.5 hours off a single charge on days with heavy use. This year, the smaller Pro dealt with the same general workloads and lasted for closer to 12 hours before needing a charge. The larger Pro Max, meanwhile, routinely stuck around for between 13 to 14 hours on a single charge, compared to the 11 to 12 hours I squeezed out of the iPhone XS Max.
The Verge's Nilay Patel says his ‌iPhone 11 Pro Max‌ has consistently lasted 12-14 hours, up from 8-10 hours with the ‌iPhone‌ XS Max:
So the best I can tell you is that Apple has historically been good about meeting its battery life claims, and the iPhone 11 Pro Max I've been using every day for a week has consistently run for 12 to 14 hours on a single charge, with over 10 hours of screen-on time reported in the battery settings per 24-hour period.

That's compared to 8 to 10 hours of battery life at most for my iPhone XS Max, which is a marked improvement. It's not enough to make me stop charging at my desk throughout the day, and I'll definitely still carry a battery pack on trips. But it's a big bump, and it's better than most Android phones we've tested.
Cameras and Night Mode
‌iPhone‌ 11 Pro and ‌iPhone 11 Pro Max‌ models share the same triple-lens rear camera system with a new ultra-wide-angle sensor complementing the existing wide-angle and telephoto lenses on last year's high-end models.
Patel believes the ‌iPhone‌ 11 Pro models have "the best smartphone camera on the market right now":
It appears Apple took all of those criticisms to heart because the iPhone 11 Pro cameras are an enormous improvement over the XS, and they beat the Pixel and Samsung's Galaxy Note 10 Plus in most of our side-by-side comparisons. In fact, I think the iPhone 11 Pro is the best smartphone camera on the market right now.
Mashable's Raymond Wong believes that the ‌iPhone‌ 11 lineup's new low-light Night Mode, activated automatically when necessary, is both better and more convenient than the similar Night Sight mode on Google's latest Pixel smartphones:
Sure, Google did night mode first, but the feature is more intuitive on the iPhone 11 Pro. On a Pixel, a spinning exposure ring blocks the entire viewfinder while you're holding still, but on the iPhone 11 Pro, you can see in real time an exposure getting brighter as the timer counts down.

And the iPhone 11 Pro's night mode also produces better photos in my opinion — sharper details from corner to corner, and better tones and contrast to preserve a scene's mood. Whereas night mode on other phones brighten a scene to the point it looks artificial or flat, the iPhone 11 Pro's night mode more delicately balances the light and dark areas in both the foreground and background.
Here's a side-by-side comparison of ‌Night Mode‌ on the ‌iPhone‌ 11 Pro and Night Sight on Google's Pixel 3 from The Verge:

Pixel 3 on left, ‌iPhone‌ 11 Pro on right
Design
TechCrunch's Matthew Panzarino says the ‌iPhone‌ 11 Pro's new Midnight Green color actually looks more like dark gray in most lighting conditions:
The green looks nearly nothing like any of the photographs I've seen of it on Apple's site.

In person, the Deep Green is reads as dark grey in anything but the most direct indoor light. Outdoors, the treated stainless band has an "80's Mall Green" hue that I actually really like. The back also opens up quite a bit, presenting as far more forest green than it does inside. Overall, though, this is a very muted color that is pretty buttoned up. It sits comfortably alongside neutral-to-staid colors like the Space Gray, Silver and Gold.

‌iPhone 11 Pro Max‌ in Midnight Green
Panzarino adds that the new matte glass casing makes the ‌iPhone‌ 11 Pro models grippier than the glossy-backed ‌iPhone‌ XS models:
I'm happy to report that the iPhone 11 Pro's matte finish back increases the grippyness of the phone on its own. The smooth back of the iPhone 11 and the iPhone XS always required a bit of finger oil to get into a condition where you could reliably pivot them with one hand going in and out of a pocket.
As Wired's Lauren Goode notes, all three ‌iPhone‌ 11 models have what Apple claims is the most durable glass on any ‌iPhone‌:
All three new iPhones have what Apple claims is the most durable glass on any iPhone. However, the back of the Pro phones have a textured and less slippery matte finish, and it's one that I prefer, given my track record for shattering phones. The Pro phones also come in colors that are more understated than the iPhone 11's pastels, contributing to the gravitas of the Pro's.
More Reviews
Videos
‌iPhone‌ 11, ‌iPhone‌ 11 Pro, and ‌iPhone 11 Pro Max‌ models are available to pre-order in the United States and many other countries, with deliveries to customers and in-store availability beginning Friday, September 20.