Smart Fitness Device Activ5 Now Available From Apple
Apple retail stores and the Apple online store are now carrying the Activ5, a fitness device designed by Activbody.
Described as a portable isometric-based strength training device with digital coaching, the Activ5 coaches users through each isometric exercise, measures maximum strength for each exercise, and communicates this to an iPhone.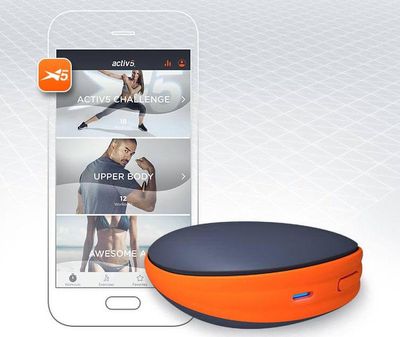 The device itself is a small pad that's outfitted with a number of pressure sensors inside.
The Activ5 is personalized to each user to create a challenging but achievable workout. Each workout pose is demonstrated in the app, and the device itself is able to tell users to push harder or less hard throughout the workout. Every detail of the workout is tracked via the app, providing fitness stats for each exercise.


There are more than 100 full body workouts available based on isometric exercises, which are designed around contractions of a specific muscle or group of muscles. Activbody says that the average strength gain for Activ5 users is 30 percent.
Because the Activ5 is portable, it can be taken to work, used at home, used in a bar, a plane seat, or anywhere else with workouts provided for different situations. Exercise is gamified through various games you can play in the app.


The Activ5 has an Apple Watch app to untether workouts from the ‌iPhone‌, and it integrates with Apple's HealthKit so workout information is uploaded to the Health app. The Apple Watch app offers up exercise and heart rate tracking as well as calculating calories burned.
The Activ5 can be
purchased from the Apple online store
and Apple retail stores starting today for $130.