Apple Highlights WWDC 2019 Scholarship Winners and Their Apps
Each year, Apple provides up to 350 students with a free ticket to WWDC and lodging for the conference. The lucky winners are selected based on the quality of their Swift Playground coding submission and written answers.
Apple has now highlighted dozens of WWDC 2019 scholarship winners and their apps in an editorial in the App Store under the Today tab.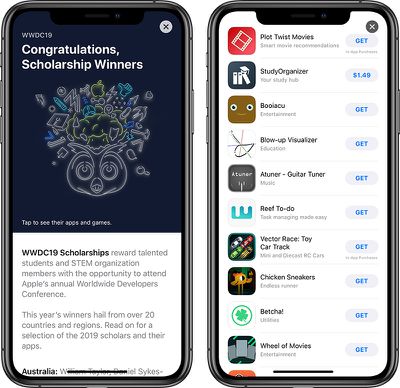 This year's winners hail from over 20 countries and regions around the world, according to Apple, including Australia, Austria, Brazil, Canada, China, France, Germany, Hong Kong, Hungary, India, Italy, Kazakhstan, Korea, Norway, Poland, Russia, Saudi Arabia, South Africa, Spain, Sweden, the U.K., and the U.S.
The winners had the opportunity to discuss their apps with Apple CEO Tim Cook, Apple marketing executive Greg Joswiak, and vice president of software engineering operations Cheryl Thomas at the McEnery Convention Center on Sunday, according to photos shared by CNET's Connie Guglielmo.
WWDC scholars are treated to a special experience at the conference, starting with Apple's Scholarship Kickoff event yesterday at the Discovery Meadow park. There, Apple executive and WWDC scholar chaperone Esther Hare welcomed winners in a speech and posed for selfies with the young developers.
Each scholar also received a
special badge, t-shirt, and magnetic pin
, in addition to the reversible WWDC jacket that all developers received, although they have yet to receive a bigger gift like AirPods given out last year.
Here's another look at that reversible jacket:
From a year ago:
A Week in the Life of WWDC 2018 Scholarship Winners