Apple Pay Comes to New York City's MTA Transit This Friday
Apple Pay is coming to New York City's Metropolitan Transportation Authority on May 31, reports TechCrunch. The rollout means people will be able to use ‌Apple Pay‌ with the new tap-to-pay fare system on the buses in Staten Island and the 4, 5, and 6 subway lines between Grand Central Station in Manhattan and Atlantic Avenue-Barclays Center in Brooklyn.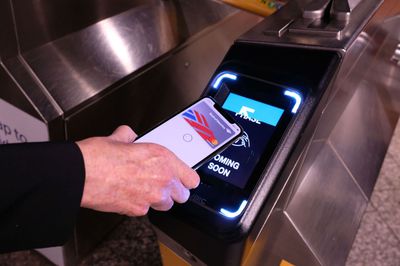 Image via TechCrunch
To use ‌Apple Pay‌ on the MTA transit, you'll need an
iPhone
6s or SE or later, and have the latest version of iOS (12.3) and watchOS (5.2.1) installed. After you've registered a credit or debit card, you can then take advantage of the new Express Transit NFC feature, which allows you to tap your ‌iPhone‌ or Apple Watch against the fare reader to pay and go.
The system is currently limited to single-ride passes, so users of daily, weekly, or monthly passes aren't able to use ‌Apple Pay‌ yet. However, additional fare options are due to introduced by late 2020, when the MTA expects to have rolled out ‌Apple Pay‌ on all subway lines and buses, according to TechCrunch.