Apple Announces Support for NFC Tags That Trigger Apple Pay
At the TRANSACT Conference in Las Vegas back in early May, Apple VP of Apple Pay Jennifer Bailey detailed some new ‌Apple Pay‌ features that Apple will be rolling out in the future.
As noted by Scott Harkey and Steve Moser on Twitter, Bailey outlined support for new NFC stickers or tags that will trigger ‌Apple Pay‌ for a payment without needing to have an app installed.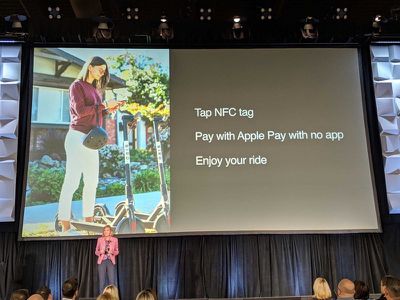 When you tap these stickers, you will be able to make an ‌Apple Pay‌ payment quickly and easily. Apple is partnering with Bird (a scooter company), Bonobos (a clothing store) and PayByPhone parking meters for the rollout of the service.
With the latter service, you can pay a parking meter with ‌Apple Pay‌ and then add more time to your meter from anywhere so your parking doesn't expire.
Apple is also planning on an instant enrollment feature for loyalty cards in the Wallet app in the near future. Dairy Queen, Panera Bread, Yogurtland, Jimmy John's, Dave & Busters, and Caribou Coffee are all planning to launch services later this year that will use NFC tags allowing customers to sign up for loyalty cards.
The new ‌Apple Pay‌ features use NFC features that Apple first began allowing access to
in iOS 11
. We may hear more about these new features at WWDC, set to kick off on June 3.