App Store Users Report Endless T&C Loop Preventing App Updates and Downloads
A number of iPhone and iPad users this morning are taking to Twitter and Reddit to report an issue with the App Store that prevents them from downloading or updating apps.
The problem starts when a user taps the Get button on an app listing, whereupon a pop-up informs them that "Apple Media Services Terms and Conditions have changed" and that they must read and accept them to continue.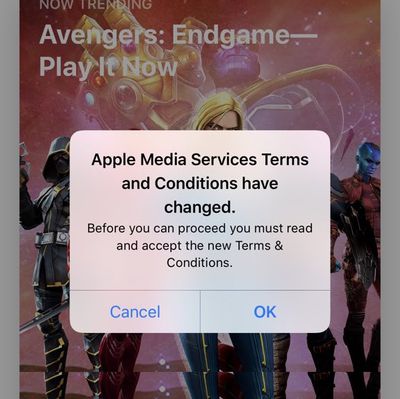 However, tapping OK and then agreeing to the terms and conditions simply sends the user back to the app's ‌App Store‌ listing where they're asked to read and accept the T&Cs again, thus begetting an endless loop.
The T&C issue is being reported by users in different countries, and also appears to be affecting Apple's communication servers, with some users receiving multiple duplicate emails notifying them of a change in Apple Media Services terms. Yet Apple's System Status page is currently reporting no problems.
One user reported that simply tapping Cancel when the T&C notification first pops up made it go away, allowing them to download or update the app in question, but this hasn't worked for others. Have you been affected by the T&C issue currently besetting the ‌App Store‌? Let us know your experience the comments below.
(Thanks, Mike!)