Apple Cancels Federation Square Store in Australia After Demolition Plans Were Denied
Apple has shelved plans to build a new flagship Apple Store at the Federation Square shopping center in Melbourne, Australia after heritage authorities refused an application to demolish the Yarra Building that's already on the site.
According to The Sydney Morning Herald and The Age Heritage Victoria today said that the Yarra Building could not be torn down as it would result in an "unacceptable and irreversible detrimental impact on the cultural heritage significance of Federation Square." Apple in response said that it would not proceed with plans to build the store.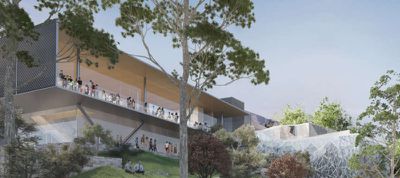 The retail store Apple planned to build at Federation Square after design revisions


An Apple spokesperson told The Age that Apple was disappointed it would no longer be able to build a retail store at Federation Square. "We remain committed to serving our customers in Melbourne and across Australia," said the spokesperson.
Apple first announced plans to build an Apple retail location at Federation Square in December 2017, with the company planning to make it an "Apple Global Flagship Store" that would have been Apple's most significant store in the Southern Hemisphere, offering workshops, classes, and live music events.
Apple's plans for the store called for the demolition of the Yarra Building, a move that ultimately received backlash from the Melbourne City Council and Melbourne locals unhappy with the plan to give public space to a corporation.
The original Federation Square design featured a pagoda-style building that locals also disliked, referring to it as a "Pizza Hut Pagoda." Apple in July 2018 submitted revised blueprints for the store with an updated design created after workshops with Federation Square management, the Victorian Government, and the Melbourne City Council, but permission was still required to remove the Yarra Building.

The Yarra Building, via The Sydney Morning Herald


Federation Square management in December applied to Heritage Victoria for a permit that would allow the Yarra Building to be torn down so Apple could proceed with the building of the store, but that application was denied after heritage authorities received thousands of objections from Melbourne locals.