AirPods 2 Teardown: H1 Chip With Bluetooth 5.0, Same Batteries, and Water-Repellent Coating on Charging Case Board
iFixit today shared a teardown of the second-generation AirPods, providing a closer look at the H1 chip with Bluetooth 5.0 and the same 93 milliwatt hour battery in each of the AirPods in line with the original pair.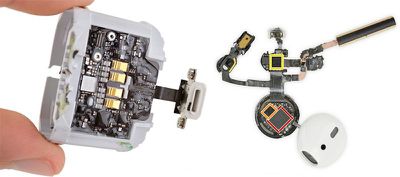 New charging case on left and new AirPods with H1 chip labeled in red on right via iFixit
The repair website also pried open the new wireless charging case, which continues to have a 398 mAh battery capacity, and said there is a new "water-repellent coating" on the circuit board. The teardown notes that the updated charging case "seems designed for increased durability, but not repairability."
Unsurprisingly, the new AirPods earned a zero for repairability, as iFixit says they remain "disappointingly disposable." AirPods are not designed to be serviced, as no hardware components can be accessed without damaging the earphones, and sealed-in batteries make the AirPods a consumable product.


Many of these details were already known, but the teardown still provides an interesting look at the internal differences compared to the first-generation AirPods. More photos and tech specs are available over on iFixit's website.