Samsung's More Affordable Galaxy S10e Compared to iPhone XR
In the 2018 iPhone lineup, Apple introduced the ‌iPhone‌ XR, an ‌iPhone‌ that shares many of the same hardware advancements added in the XS and XS Max, but at a more affordable $749 price tag.
Samsung followed in Apple's footsteps with its own 2019 Galaxy smartphone lineup, introducing the Galaxy S10e alongside the S10 and S10+ with a smaller screen size and a cheaper $749 price point that's meant to compete with Apple's ‌iPhone‌ XR. In our latest YouTube video, we compare Samsung's affordable smartphone option to Apple's.
Samsung's Galaxy S10e features a 5.8-inch 2280 x 1080 OLED display, while Apple's ‌iPhone‌ XR uses a 6.1-inch 1792 x 828 LCD display that Apple calls "Liquid Retina" because it's the company's best LCD to date. Samsung's OLED display is bright, crisp, vibrant, and a close match to the display used in its higher-end smartphones.
Apple's display doesn't look bad, but it can't quite match the quality of OLED. When it comes to cutouts, the ‌iPhone‌ XR uses the same notch as the ‌iPhone‌ XS and XS Max because it has the same Face ID facial recognition system, while the Galaxy S10e uses a unique hole-punch cutout for the front-facing camera that maximizes available screen real estate.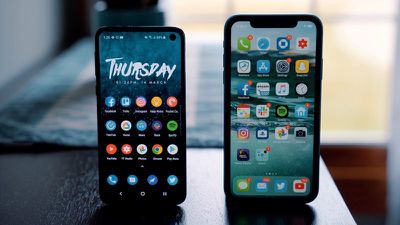 Samsung can't match Apple's facial recognition capabilities, so the Galaxy S10e features a fingerprint sensor built into the power button on the right side of the device. That's a deviation from other S10 devices that have an under-display ultrasonic fingerprint sensor.
Apple's iPhones typically beat Samsung's when it comes to processor performance, and it's no different with the XR and S10e. The XR is equipped with Apple's A12 bionic chip (the same chip that's in the XS and XS Max), while all of Samsung's smartphones, S10e included, use the Snapdragon 855. The Snapdragon 855 does not perform as well as the A12 on benchmarks, but these are modern smartphones that excel at everyday tasks.


The S10e is equipped with 6GB RAM, double the RAM in the ‌iPhone‌ XR, but Apple has traditionally made better use of lower quantities of RAM due to deep integration between hardware and software.
Samsung's S10e wins out over the XR when it comes to storage because the base model starts at 128GB of storage (vs. 64GB) and comes with a microSD card slot for expanding space available to you.


Because it has a smaller display, the S10e is lighter and more compact, which is better for one-handed use and closer to the ‌iPhone‌ XS. Both devices have multiple color options, with the XR coming in six shades and the S10e available in four colors with a pearlescent sheen.
Apple scaled back on the ‌iPhone‌ XR's rear camera to cut down on cost, and Samsung did the same thing. The ‌iPhone‌ XR uses a single-lens camera while the other iPhones have dual-lens setups, and the S10e has a dual-lens camera instead of a triple-lens camera. The S10e features both wide and ultra-wide lenses, while the XR only has a single wide-angle lens.


The XR uses software for Portrait Mode photos that have blurred backgrounds, which prevents the feature from working with pets, food, and anything but people, really. The S10e doesn't have that limitation, which, paired with the ultra-wide lens, gives the S10e an edge when it comes to photography. Apple's images are more color accurate and better at accurate exposures.
There are pluses and minuses with both Samsung and Apple's "budget" smartphones. Apple brings ‌Face ID‌, its faster A-series chip tech, and tighter software/hardware integration (which, arguably, means a longer life and more frequent software updates), while Samsung's S10e has a dual-lens rear camera, an OLED display, and expandable storage.
Do you prefer the ‌iPhone‌ XR or the S10e? Which company did a better job making an affordable device that still has all of the modern tech one might want in a smartphone? Let us know in the comments.