Fitbit's New Versa Lite Edition Costs Less Than Half as Much as the Apple Watch
Fitbit today announced its latest smartwatch, the Versa Lite Edition. Priced at $160, the Versa Lite is $40 cheaper than the standard Versa model released last year and less than half as much as the Apple Watch Series 4, which starts at $399.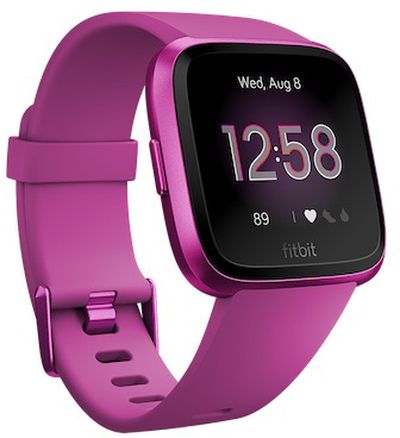 The new Versa Lite Edition looks similar to the standard Versa, beyond having one button versus three. Of course, the Lite Edition loses some features compared to the standard Versa, including Wi-Fi, on-device music storage and playback, on-screen workouts, and the ability to track swim laps and floors climbed.
Nevertheless, the Lite Edition has most features you would expect from a fitness tracker, including step counting, calories burned, sleep tracking, heart rate tracking, guided breathing sessions, and more than 15 exercise modes.
Compared to the Apple Watch, the Versa Lite Edition is unsurprisingly basic. It has fewer apps, lacks built-in Wi-Fi, GPS, or optional LTE, can't be used for contactless payments, doesn't have a microphone for voice control, and so forth. The simplicity of the Versa Lite does allow for up to four-day battery life though.
Fitbit is the world's second largest smartwatch vendor according to estimates, but it trails Apple by a significant margin, so it's clearly attempting to win market share with an aggressive pricing strategy. This includes the also-announced Inspire, Inspire HR, and Ace 2 fitness trackers priced between $70 and $100.
Versa Lite Edition is available for pre-order in white, lilac, mulberry, and marina blue.