Apple Pay Rolling Out in Czech Republic and Saudi Arabia
Apple Pay is rolling out to users in Saudi Arabia and the Czech Republic, according to multiple reports from tipsters and posts across social media this morning.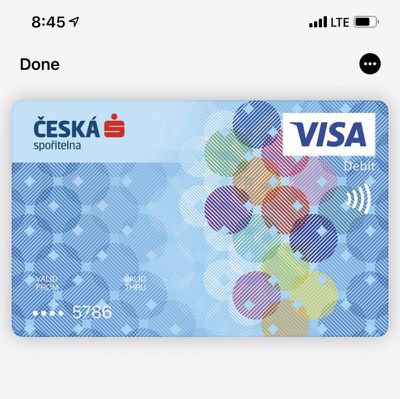 Apple's digital payment system already appears to be active for a number of banks and financial services across both countries. In Czech Republic, users have so far reported successfully adding cards to their mobile wallets from Air Bank, MONETA Money Bank, Ceska sporitelna, and payments company Twisto.
When ‌Apple Pay‌ was rumored to be coming to the country in late February, support for the country's two largest banks Česká spořitelna and Komerční banka was mooted, so hopefully they'll also be added to the "active" list soon.
Meanwhile in Saudi Arabia, Apple's regional Apple Pay website has gone live and lists Visa and Mastercard support for Al Rajhi Bank, NCB, MADA, Riyad Bank, Alinma Bank, and Bank Aljazira.
Apple said in October that ‌Apple Pay‌ would be "coming soon" to the country, and reports are coming in from users who have successfully registered cards with ‌Apple Pay‌ issued by the above banks.
Apple's website also lists several supporting outlets in the country, including Carrefour, counterpoint, KFC, Bershka, baby shop, MacDonalds, and Krispy Kreme doughnuts, among others.
‌Apple Pay‌ has been gradually expanding across Europe, Asia, and the Middle East. The service launched in Belgium and Kazakhstan in November and made its long-awaited debut in Germany the following month.
‌Apple Pay‌ first launched in the United States in October 2014, and has since expanded to many other countries, such as the United Kingdom, Canada, Australia, China, Singapore, Switzerland, France, Japan, Spain, Italy, Sweden, Finland, Denmark, Russia, New Zealand, Brazil, Poland, Ireland, and Ukraine.