Puma Debuts $330 iPhone-Connected Self-Lacing Sneakers to Compete With Nike
Nike in January announced the launch of iPhone-controlled self-adjusting basketball shoes, and now another popular shoe brand, Puma, is set to launch its own self-lacing sneaker.
The upcoming Puma Fi, which was able to be tested by Engadget's Richard Lai, has been in development for three years. Puma has experimented with automatic shoe technology before with the laceless Autodisc, and is building on that experience with the new model.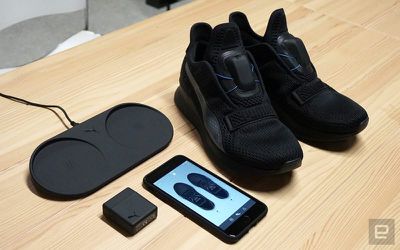 Fi is an all-black shoe with a cordless motor at the top that's designed to fit the shoe around the foot, replacing traditional laces. The motor is attached to blue Dyneema strings (a material used in the fishing industry) that tightens when the motor is activated.
The Fi is powered by a removable battery hidden in a water resistant pocket inside of the shoe, and it can be charged by putting the heel of the shoe on an included Qi wireless charging mat or through a charging case.
There are a series of blue LED lights around the tongue of the Fi that light up when the motor is operational and display battery life. The battery lasts for five to seven days before it needs to be recharged, a process that takes 90 to 120 minutes.
According to Lai, the Fi is comfortable and looks and feels like an ordinary sneaker when in use. You can adjust the fit of the Fi with a touch module on the front that supports swipes for tightening the shoe.
The Fi can also be controlled via an iPhone, and there is included Apple Watch support. Using the ‌iPhone‌ controls, you can change the tightness, see battery life, and make small micro adjustments not possible with the on-shoe controls.


With the motor inside, the Fi weighs 428 grams, but Lai said that the weight "wasn't that noticeable" when wearing the shoe. There is a noticeable mechanical noise when operating the shoe, which Lai said "sounds cool."
There are no activity tracking and GPS tracking features in the Fi, but both the Fi and Nike's smart sneaker are just some of the first smartphone-controlled shoes. If the trend catches on, we could see more capable, feature rich iPhone-connected sneakers in the future.
Puma Fi will launch in spring 2020 and it will be priced at $330. Puma plans to launch an open beta program in the future to allow customers to use the sneakers in exchange for product feedback. Those interested should download Puma's PUMATRAC app, where Puma will announce Fi availability. [Direct Link]