App Developers Have Earned $120 Billion Since App Store Launched in 2008
App Store developers have earned a total of $120 billion since the ‌App Store‌ launched back in 2008, Apple announced today. More than a quarter of that total was earned in the past year alone, according to Apple.
The ‌App Store‌ has seen significant growth in revenue with each quarter and it brings in a major part of Apple's growing services revenue.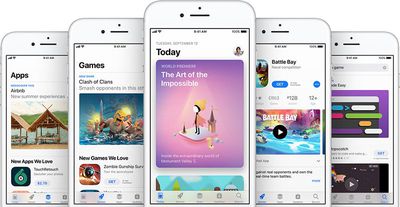 The new ‌App Store‌ metric was highlighted as part of an Apple Newsroom article covering the launch of the Entrepreneur Camp, which allows female-founded app development companies to attend a program at the Apple Park campus in Cupertino.
Entrepreneur Camp is designed to provide female app creators with "the tools needed to thrive in today's global app economy." There are 11 female app founders who are joining the inaugural program, which will last for two weeks.


Each attendee will have access to an immersive hands-on technology lab where participants will be able to work one-on-one with Apple experts and engineers to accelerate their apps.
"In the past, starting a small business often meant having to invest in overhead, inventory or retail space. Today, a world of opportunity opens up with some coding skills and an entrepreneurial spirit," said Esther Hare, Apple's senior director, Worldwide Developer Marketing and executive sponsor, Women@Apple. "The App Store is the new digital Main Street, and creative developers are tapping into the vast potential of the global app economy. We hope that this program helps to inspire women around the world to learn to code, join the iOS development community and share in the thriving app economy."
Sessions on design, technology, and ‌App Store‌ marketing are included, as are ongoing guidance and support from an Apple Developer Relations representative. Apple says attendees will learn about new Apple technologies, including optimizing for the A12 chip, integrating CoreML into apps, building experiences for ARKit, and more.
Those who attend Entrepreneur camp will be provided with two tickets to the 2019 Worldwide Developers Conference and a complementary one-year membership to the Apple Developer Program. Apple has a list of the first app companies accepted to the program in its Newsroom article.
Going forward, Apple plans to hold Entrepreneur Camp sessions on a quarterly basis, with up to 20 app companies accepted for each round. As outlined when the program was announced, app-driven businesses need to be female founded, co-founded, or led, and must have at least one woman on the product development team.