Huawei Launches New 'Honor View 20' Smartphone With 'Hole-Punch' Camera Cutout
Honor, a smartphone brand owned by Huawei, today unveiled its newest device, the Honor View 20. The device launched at an event in Paris, and several tech publications were able to go hands-on with it.
A mid-range device, the Honor View 20 is the first Honor-branded smartphone that features a hole-punch notch in the display, maximizing view area with a single cutout just for the camera. This isn't the first device under the Huawei umbrella to have a hole-punch cutout - the Nova 4 also has a similar design.
The Honor View 20 is a 6.4-inch LCD display with rounded corners, the aforementioned camera cutout (which houses a 25-megapixel camera), a small bezel at the bottom of the device, and a speaker grille at the top of the casing. There's a rear-facing fingerprint sensor, a 48-megapixel rear camera paired with a second camera sensor for detecting objects in 3D, a 4,000mAh battery, and a Kirin 980 system-on-a-chip.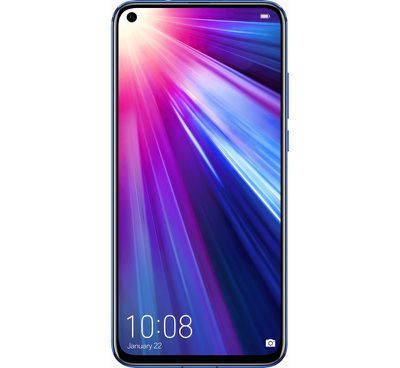 TechCrunch's Romain Dillet said the hole-punch cutout "definitely feels different" from an iPhone notch, but it looks weird located on the left side of the device. Still, it "looks great" when viewing photos and videos, and after just a few minutes, "you barely notice it."
"I hope more companies are going to follow this trend," writes Dillet.


CNET's Jessica Dolcourt was also able to give the new smartphone a try, calling it "visually mesmerizing." The display, according to Dolcourt, "feels as close to an edge-to-edge screen as we're likely to get right now."
You might have opinions about the hole-punch camera, just as you might have strong feelings about the notch. But it never got in my way. It either fits into an unoccupied corner of whichever app you open, or falls into the navigation bar of that app. It all depends on how the app maker laid everything out in the first place.
The Honor View 20 launches in Europe and Asia and is priced starting at 569 euros or 499 pounds for 6GB RAM and 128GB storage. Huawei's devices are banned in the U.S. and so the new smartphone will be difficult to obtain in countries like the United States, UK, Australia, and New Zealand.


While hole-punch camera cutouts are a growing trend, with even Samsung set to use the technology, it's not clear if it's something Apple is aiming for. Most front-facing camera setups are not as complicated as the TrueDepth camera system, which, in addition to a standard camera, incorporates a dot projector and infrared camera for facial scans.


Rumors have suggested Apple will cut down on the size of the notch in 2019, and Apple's ultimate goal is said to be an uninterrupted edge-to-edge display with no compromises like a notch, but it's not known if and when the company will reach that goal.