Apple Buys 50 Business Class Seats From San Francisco to Shanghai Every Day
Apple is United Airlines' biggest customer at the San Francisco International Airport, according to signs the airline has available that were shared on Twitter today.
According to United, Apple spends $150 million on airline tickets each year, and purchases 50 business class seats on flights to Shanghai every day.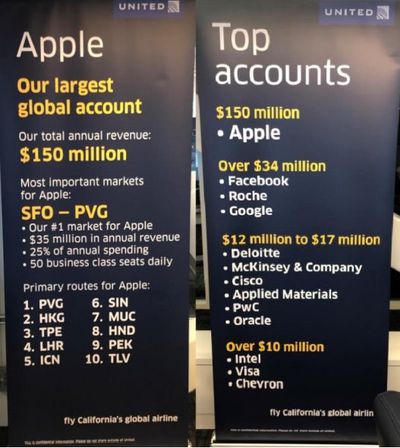 Apple has many suppliers in China, which explains why the company sends so many employees to the Shanghai Pudong Airport.
Apple spends $35 million each year on flights from SFO to Shanghai, which is the number one flight the company purchases. Other routes are also popular, with Apple employees flying between these top 10 locations frequently:
1. Shanghai (PVG)
2. Hong Kong (HKG)
3. Taipei (TPE)
4. London (LHR)
5. South Korea (ICN)
6. Singapore (SIN)
7. Munich (MUC)
8. Tokyo (HND)
9. Beijing (PEK)
10. Israel (TLV)
Apple has more than 130,000 employees across its retail and corporate locations, and its headquarters is located in Cupertino, California. The San Francisco International Airport, located near Millbrae, California and south of San Francisco, is the closest major airport for international flights.
This statistic accounts solely for the flights taken from SFO. Apple has campuses in other locations around the world, and the San Jose International Airport is also nearby, so this is likely just a fraction of the airline travel that Apple funds.
As The Verge's Nilay Patel points out, statistics like these are a reminder of the huge number of employees that Apple has working behind the scenes on the devices that we use every day.
Apple is by far the biggest United airline customer in the Bay Area, and its $150 million spending total far outranks Facebook, Roche, and Google, companies that each spend over $34 million on United flights annually.