At this year's Consumer Electronics Show, Seagate is launching a number of new external hard drives and solid state drives under its Seagate and LaCie brand names, offering up a new range of data storage solutions.
Seagate's premium LaCie brand is launching two new products, including the LaCie Mobile Drive and the LaCie Mobile SSD.
The LaCie Mobile Drive offers up to 5TB of storage for those who need a lot of storage space, while the LaCie Mobile SSD offers up to 2TB of storage space and transfer speeds of 540MB/s, for instances when quick data transfer is needed.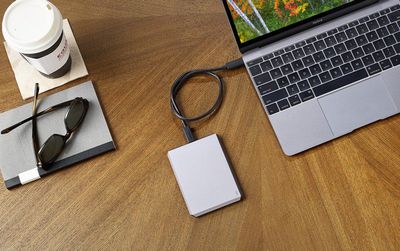 The two new LaCie drives, which are launching in January, feature a unique diamond-cut design that's meant to complement the aesthetics of Apple's Mac notebook lineup.
LaCie's Mobile Drive offers a two year warranty, while the LaCie Mobile SSD offers a three year warranty and a three year subscription to the Seagate Rescue Data Recovery plan.
Under the Seagate brand, multiple new Backup Plus drives are launching. The Backup Plus Ultra Touch, available in 1TB or 2TB capacities, is designed to offer a "high-touch sensory experience" with features that include automatic backup and multi-device folder sync.


The Backup Plus Slim, available in 1TB and 2TB capacities, and the Backup Plus Portable, in 4TB and 5TB capacities, are Seagate's newest drives in a classic line, offering an aluminum finish in black, blue, and silver, with automatic backup included.
All new Backup Plus models ship with a complimentary two month subscription to the Adobe Creative Cloud Photography Plan.
Seagate's Backup Plus Ultra Touch will be available starting in February. while the Backup Plus Slim and Backup Plus Portable will launch in March.