Apple is celebrating the 15th anniversary of its popular music creation app GarageBand on Mac this upcoming Sunday, January 6.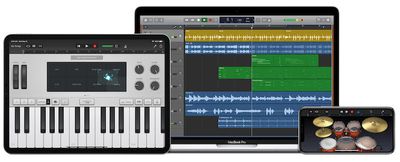 Apple says GarageBand, introduced at Macworld 2004 by its late co-founder Steve Jobs and musician John Mayer, has grown to be the most widely used music app in the world and is now on over one billion iPhones, iPads, and Macs globally.
Apple provided a timeline of significant GarageBand milestones, including the releases of iPhone and iPad versions in 2011:
January 2004: GarageBand debuted at Macworld by Steve Jobs with John Mayer

April 2005: NIN release "The Hand That Feeds" as GarageBand project file that fans can remix

December 2005: T-Pain creates his first album,"Rappa Ternt Sanga" in GarageBand for Mac

March 2007: Rihanna "Umbrella" built with GarageBand bundled drum loop "Vintage Funk Kit 03"

March 2007: Fall Out Boy records "Thnks fr th Mmrs" in GarageBand for Mac

November 2007: Duran Duran releases GarageBand version of "Nite-Runner" that fans can remix

February 2008: Usher "Love in This Club" built with GarageBand bundled synth loop "Euro Hero Synth 02"

February 2008: Ting Tings record "Great DJ" on GarageBand for Mac

April 2008: Radiohead release "Nude" as GarageBand project file that fans can remix

2008: "It Might Get Loud" documentary shows Edge from U2 using GarageBand on his laptop

2009: Learn to Play and Artist Lessons announced on GarageBand for Mac

May 2009: St. Vincent creates "Actor" album in GarageBand

March 2011: GarageBand for iPad announced

November 2011: GarageBand for iPhone announced

October 2013: GarageBand 10 for Mac with new design announced

August 2014: Haim records "My Song 5" in GarageBand

June 2015: Marc Maron interviews President Obama in a podcast recorded in his garage using GarageBand for Mac

January 2016: Live Loops feature added to GarageBand for iOS

May 2016: GarageBand for Greater China announced with traditional Chinese instruments

April 2017: Steve Lacey produces the Kendrick Lamar song "PRIDE" using GarageBand for iOS
GarageBand is a free download on the Mac App Store and App Store for iOS devices.