'Calm' Became Top Meditation App After Apple's 2017 App of the Year Award, 'A Touchy Subject' at Rival Headspace
One year ago, Apple awarded the meditation app "Calm" as the iPhone app of the year, and since then the company has dethroned the previous #1 meditation app on the iOS App Store, "Headspace." In a new report by The Wall Street Journal out today, the two companies talk about how they are in a "mindful competition" with one another, and about the merits of Apple's best of the year awards system.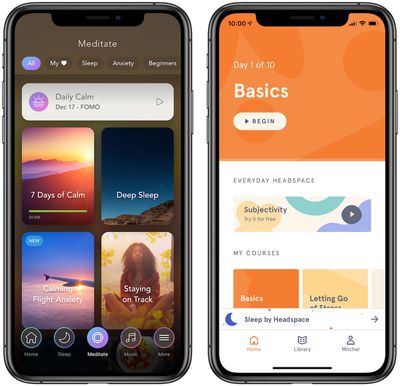 Calm (left) and Headspace (right)
Headspace predates Calm (founded in 2010 and 2012, respectively), and dominated the iOS App Store's meditation space throughout its life, until 2018. According to Calm chief product and growth officer Dun Wang, "Since winning App of the Year, we seem to have a much higher growth rate than they do, and we'll surpass them from now on."
Since December 2017, Calm has topped the meditation category in both downloads and mobile revenue, earning $50.7 million in revenue through October 2018, compared to $34.3 million for Headspace, according to Sensor Tower data. One Headspace spokeswoman pointed out that Sensor Tower's data didn't account for subscriptions paid for through its website and corporate partnerships. Both Calm and Headspace cost $12.99/month, but differ when you upgrade to a yearly subscription: Calm is priced at $69.99/year and Headspace is priced at $94.99/year.
Apple's award is said to be "a touchy subject" at Headspace.

"I think people are blowing App-of-the-Year way out of proportion," says Ben Spero, a managing director at Spectrum Equity, a Headspace investor. "It's good P.R., but it's not determinative. It's not that Apple was saying that Calm is a better app—they're big fans of Headspace, too," he says, pointing out that the App Store often features Headspace on its landing page.
Calm co-CEO and co-founder Michael Acton Smith on the competition with Headspace:

"We're both growing the sector. This is such a huge market, there's going to be room for a few different winners," Mr. Acton Smith says. "We want Calm to be the number one, of course—and we wish the others the best for second place."
Calm and Headspace offer largely the same experiences, with slightly different variations on meditation. A Calm subscription grants you access to a new "Daily Calm" meditation every day, new featured Sleep Stories narrated by celebrities like Matthew McConaughey, mindful music, and a central meditation tab with dozens of classes that offer 7 to 21 days of focusing on anxiety, stress, happiness, self-esteem, and more.
Headspace offers classes for focus, exercise, and sleep; an "Everyday Headspace" with new meditation topics each day; mini-meditations; sleep sounds; and more. Both apps have coaches that guide you through everything so that you can follow the exact steps for each meditation.
Recently, Headspace has signed deals with more than 300 companies to integrate the app into employee health and wellness benefits, but according to a Calm investor these are just vanity partnerships: "Calm has managed to overtake Headspace because they've been laser-focused without getting distracted by the types of vanity partnerships, like with sports teams, that look good in the press but don't move the needle."
Still, Dun Wang at Calm says that sometimes companies approached by Headspace will then contact Calm and ask if they want to put in an offer as well. "It's working out great for us. We don't need to be the ones making the cold calls to win these projects."
Next, Headspace plans to make waves by becoming the first prescription meditation app for certain chronic illnesses, by seeking Food and Drug Administration approval. If granted, Headspace could be covered by health insurance.
As of writing, Calm is #1 on the Health & Fitness iOS App Store chart for top free apps, while Headspace is #5. You can download Calm [Direct Link] and Headspace [Direct Link] for free from the iOS App Store.