Apple this week released iTunes 12.8.1 for OS X Yosemite up to macOS High Sierra. The minor update resolves an issue that prevented iTunes from streaming media to third-party AirPlay speakers, and contains other minor improvements.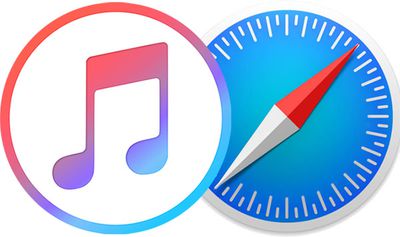 However, anyone running OS X Yosemite 10.10.5 specifically should avoid updating to iTunes 12.8.1 for now, as users across the MacRumors Forums, Twitter, Reddit, and Stack Exchange report that the update somehow breaks Safari 10.1.2, the latest version of the browser for OS X Yosemite.
After updating to iTunes 12.8.1, some users have encountered the following error message when opening Safari on OS X Yosemite:
Safari cannot be opened because of a problem.

Check with the developer to make sure Safari works with this version of Mac OS X. You may have to reinstall the application. Be sure to sure to install any available updates for the application and Mac OS X.
One user on Stack Exchange believes that the iTunes 12.8.1 update may update the MobileDevice.framework in /System/Library/PrivateFrameworks/ to a version incompatible with Safari 10.1.2, but the cause is not entirely clear. We've flagged the issue with Apple and asked if and when a fix will be available.
In the meantime, workarounds include using an alternative browser such as Firefox or upgrading to a newer macOS version — of course, those still using OS X Yosemite likely don't want to or can't upgrade. Updating to iTunes 12.9 is not possible on OS X Yosemite, as that version is only compatible with macOS Mojave.

Update - How to Fix
Some users have been able to fix Safari by opening the Finder app, clicking on Go > Go to Folder… in the top menu bar, typing in /System/Library/PrivateFrameworks/ and dragging MobileDevice.framework to the Trash.