Hands-On With the iPhone XR Clear Case From Apple
It took nearly two months following the on-sale date for the iPhone XR, but Apple's highly anticipated clear case for the colorful device is now available. We're not entirely sure what the delay was in launching it, and it's currently the only first-party case available for the iPhone XR, so we went hands-on with the new case to see how it stacks up.
Apple's clear case is intended to show off the colorful rear shell of the iPhone XR, and it does a great job at that, with a crystal clear view of the phone itself all around. The case is a bit firmer than we expected based on our previous experiences with third-party clear cases, so Apple's case holds its shape well while also providing solid protection.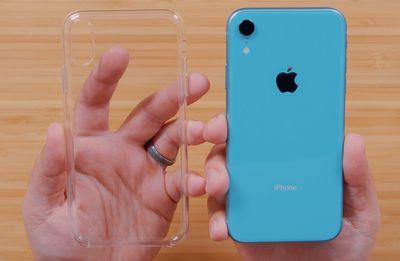 The iPhone XR Clear Case has a design that's very similar to Apple's other iPhone cases like the leather and silicone options for other models, with a raised lip around the front to protect your phone when placed or dropped face down and an open bottom that makes it easy to use gestures such as the Home screen swipe that starts at the very bottom of the screen.


It's not the most protective case on the market, but Apple has never been about providing maximal protection, so you'll have to look for other options if you're expecting to need anything more than protection from the occasional small drops.


The case unsurprisingly fits perfectly around the iPhone XR with ample clearance for the rear camera, although we wish the side button covers provided for a little more movement upon pressing to give the buttons a bit more tactile feel and that the ring/silent switch opening was a bit bigger to make it easier to access.


One common issue with third-party cases is that they tend to yellow over time after long-term light exposure. We obviously haven't had Apple's case long enough to know if that will be an issue, but we'd be surprised if Apple didn't take this phenomenon into account when selecting materials for the case.
The iPhone XR Clear Case is priced at $39, which is in line with Apple's other first-party cases but substantially more expensive than many third-party clear cases, so you'll need to decide for yourself whether the price premium is worth it.