Premiere Issue of Macworld Magazine Autographed by Steve Jobs Headed to Auction
A copy of the February 1984 premiere issue of Macworld magazine signed by Apple's late co-founder Steve Jobs will be up for auction on the RR Auction website between December 6 and December 13.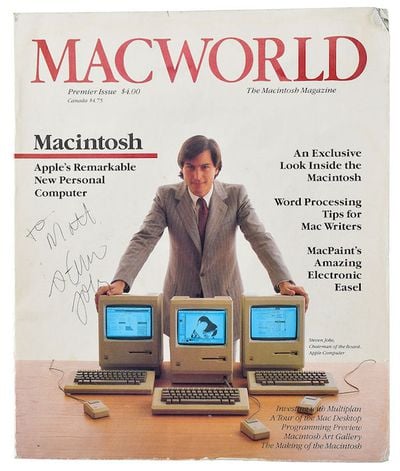 Jobs signed the magazine at the grand opening of Apple's iconic Fifth Avenue store in New York on May 19, 2006, writing "to Matt, steven jobs" on the front cover, which features a photo of Jobs posing with a trio of original Macintosh computers. The magazine is listed in fine condition with light handling and edge wear.
The premiere issue of Macworld magazine is considered to be scarce and desirable in its own right, while Jobs was often reluctant to provide his autograph, so this is a rare collectible estimated to fetch at least $10,000 at auction.
There is both photo and video proof of Jobs signing the magazine, along with letters of authenticity from verification services Beckett and PSA/DNA.


Also up for auction at RR Auction beginning tomorrow is a Steve Jobs business card listing him as Chairman of the Board at Apple Computer. The business card features Apple's classic rainbow logo and an address of 20525 Mariani Avenue, across the street from its Infinite Loop campus in Cupertino, California.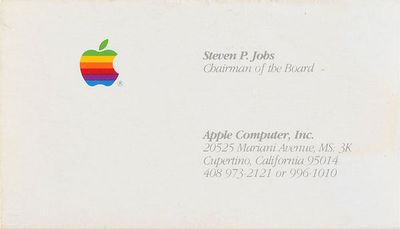 The business card is not signed by Jobs, but it is still a nice collectible and is estimated to fetch at least $500 at auction.