At CES in January, LG debuted a new UltraWide 5K display, the 34WK95U, which just recently launched. We managed to get our hands on one of the new super huge monitors, and we checked it out in our latest YouTube video.
LG's UltraWide 5K display is far from cheap, priced at $1,499, which makes it more expensive than many of Apple's notebooks and the new Mac mini. For that price, it includes a 34-inch Ultrawide 21:9 Nano IPS display, a 5120 x 2160 resolution with a 60Hz refresh date, HDR support, and Thunderbolt 3 connectivity.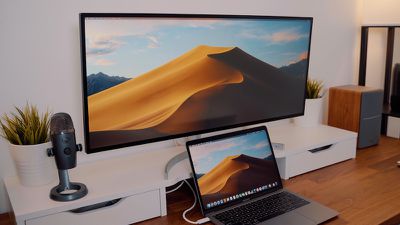 Design wise, the display features a curved base with height and tilt adjustment features, with several ports available on the back. There's a Thunderbolt 3 port, two USB-A ports, a DisplayPort, 2 HDMI ports, a USB Type B port, and a 3.5mm headphone jack. It supports up to 85W of power delivery, enough to power Apple's 15-inch MacBook Pro, and there are a set of 5W speakers at the bottom.


There's a single control button on the display that you'll need to use if you want to adjust features like brightness or speaker volume, with controls not available in macOS.
You can connect LG's UltraWide display to any of Apple's Thunderbolt 3-compatible Macs, including the new MacBook Air, the new Mac mini, and recent MacBook Pro models.
At 34 inches, the UltraWide monitor offers up a huge amount of screen real estate to work with, ideal for photographers, designers, and videographers. The 5K display of the monitor looks great, and while we didn't think it quite matched the crispness of the iMac Pro, we appreciated the extra space.


It's worth noting, however, that at its full 5120 x 2160 resolution spread over 34 inches, everything ends up looking quite tiny, but running at 2560 x 1080 as a Retina display results in content appearing too large. As a result, the best solution is to run at a scaled sweet spot resolution of 3360 x 1417, which gives you ton of screen real estate, and despite the scaling, content still looks good.
Some customers who have purchased the UltraWide 5K Display have run into compatibility issues with the 2018 MacBook Pro models equipped with 560X graphics cards, with an update in the works to fix it. We tested the UltraWide 5K Display with a MacBook Pro model equipped with a 555X graphics card and found similar issues, although Apple has just released macOS 10.14.2 and the release notes mention a fix for what sounds like a similar but not identical issue, so we'll be checking to see if performance improves for us.
The LG 34WK95U UltraWide 5K Display is undoubtedly a gorgeous display, but its high $1,500 price tag means that it's firmly aimed at creative professionals and not for the average consumer. Combine that price tag with the compatibility issues we and others have run into, and it's hard to recommend this display, at least until we're confident Apple and/or LG have the kinks worked out.
What do you think of LG's UltraWide 5K Display? Let us know in the comments.
Note: LG provided MacRumors with 34WK95U UltraWide 5K Display for the purpose of this video, and it was returned following the conclusion of filming. No other compensation was received.