Demand for the Apple TV 4K has surged in the last few weeks as consumers seek ways to stream UHD content going into the holidays, claims a new report by Joshua Fruhlinger, publisher of data-driven site Thinknum.
According to Best Buy sales rank data for streaming 4K devices in the month of November, the 32GB model of Apple's streaming set-top box has surpassed cheaper alternatives including the $40 Roku and Google's $70 Chromecast Ultra, placing the $180 Apple TV 4K a close second behind Amazon's market-leading $35 Fire Stick.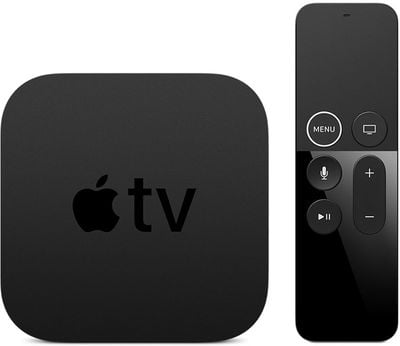 The launch of the fourth-generation Apple TV in 2015, bringing Siri integration and a full App Store, resulted in a big jump in Apple TV sales, but the device still ranked as only the fourth most popular streaming media player in the U.S., coming in behind Roku, Amazon, and Google. Since the launch of the fifth-generation Apple TV 4K last year, however, interest appears to have soared, as Fruhlinger notes:

It wasn't always this way — in fact, the Apple TV 4K has only been on the market for a little over a year. As the graph above shows, when zoomed out, the 4K race is has been a fluctuating affair. But now with the latest device revisions and 4K TV's market penetration, it appears sales are learning in Apple's direction.


Earlier this year, Apple TV Apple brought Dolby Atmos support to Apple TV 4K, and rumors have suggested Apple is planning to roll out a streaming service next year, perhaps as early as March.
On Wednesday, a report claimed Apple is considering creating a lower-cost Apple TV dongle that's similar to the Amazon Fire Stick or the Google Chromecast, a move that would aim to promote its upcoming streaming service and make it more accessible to potential buyers.