Apple Shares New 2018 Holiday Gift Guide
Apple today updated its website to introduce its annual holiday gift guide, recommending Apple products for people to purchase for friends and family this holiday season.
This year's gift guide is streamlined and simple, focusing primarily on Apple's newest selection of devices organized into different color collections.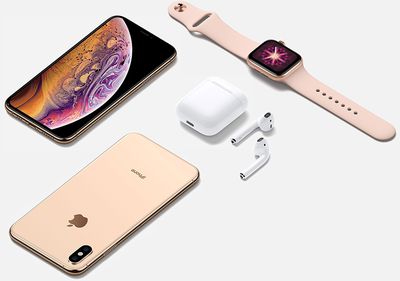 The $999 iPhone XS, the $159 AirPods, and the Apple Watch Series 4, starting at $499, are the top three recommendations in the gift guide and these are the devices that are also likely to top many holiday wishlists.
Apple's AirPods in particular have been an incredibly popular gift choice since they launched and their popularity has shown no signs of waning.
iPhone XS cases, stainless steel Apple Watch Series 4 models, and Apple Watch Sport Loops in shades of pink, gray, and brown are also top picks, but scrolling down on the page, there's an iPhone XR-focused section.
In this portion of the guide, Apple recommends the $749 iPhone XR, which comes in a variety of colors, along with the $349 HomePod, iTunes gift cards, and Apple Watch bands and iPhone XS cases in shades of gray, blue, and cream.


Apple can't recommend iPhone XR cases in this iPhone XR section because it hasn't come out with first-party iPhone XR case options.
A third section recommends devices like the new iPad Pro, which starts at $799, the Apple Pencil 2, and the Smart Keyboard Folio for the iPad, while other recommendations further in the guide cover the Apple TV 4K, the Magic Mouse 2, the 13-inch MacBook Air, and more.


Apple usually recommends some third-party products in its gift guide, but has not done so this year, choosing instead to focus on its own devices.
In addition to sharing its gift guide, Apple today also kicked off its holiday return period, offering a holiday extension on its typical two week return period. Most Apple products purchased between November 14, 2018 and December 25, 2018 can be returned to Apple through January 8, 2019.
Extended holiday returns are available in the United States, Canada, Australia, the UK, and other select regions. As is typical, Apple is offering two-day shipping on all purchases, and later in December, will likely offer one-day shipping options for last minute shoppers.