Hong Kong-based designer Philip Lee turns Apple's Macs into figurines, and his latest project, the iBot G3, brings the iMac G3 to life in the form of an adorable robot.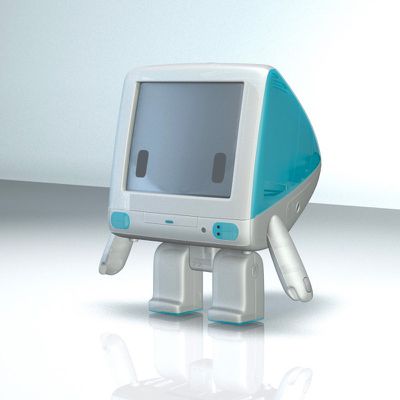 The iBot G3, available in either Bondi Blue or Tangerine, takes the classic iMac G3 design and anthropomorphizes it with a little face, arms, and legs.


Apple's iMac G3 is one of its most iconic products, and the iBot G3 has been recreated faithfully with the teardrop-shaped enclosure made from translucent plastic and incredible detail like the CRT tube, ethernet ports, and ventilation fan, created through injection molding techniques.


These little bots are figurines and are not functional, but each one ships with a matching keyboard and mouse. The arms, which are attached to the iBot G3 via magnets, can be removed if you want an iBot that looks more like a classic Mac.


There is no Apple branding or Apple logos on the iBot G3, as Cult of Mac points out, which prevents Lee from running into legal troubles. The design of the iBot G3 is being finalized, but work on the toy is nearing completion.
The iBot G3 comes in
Bondi Blue
or
Tangerine
and it is priced at $39. Orders placed now are set to ship out in December 2018.