With the release of macOS Mojave in September, Apple introduced a Dark Mode to its desktop operating system that some users prefer the look of, or just find more forgiving on the eyes. Many third-party apps have followed suit with their own darkened interfaces, and now it looks like a similar interface option is also headed for Microsoft Office.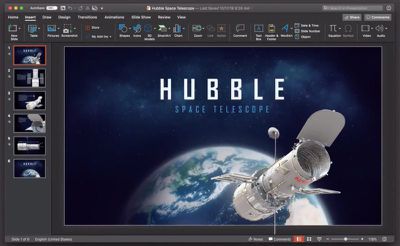 MS PowerPoint in Dark Mode
Microsoft Office product manager Akshay Bakshi has been teasing as much on social media, with two tweets posted on October 29 and 30 indicating that users of Office for Mac will soon have the ability run at least some apps included in the productivity suite in a new native Dark Mode.
According to the tweets, Dark Mode will be available in Word, Excel, and PowerPoint, featuring new dynamic ribbon and icon styling. Users signed up to the Insiders Fast community getting access to the visual refresh first in build 181029.