Apple today introduced a long-awaited refreshed Mac mini, which has been reengineered to take advantage of the newest hardware available on the market.
The Mac mini features 4 and 6-core 8th-generation Intel processors, up to 64GB RAM, four Thunderbolt 3 ports, and up to 2TB of flash storage space.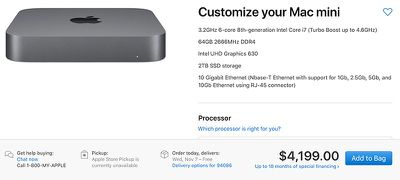 The entry-level Mac mini with a 3.6GHz quad-core processor, 8GB RAM, Intel UHD Graphics 630, and a 128GB SSD is available for $799, which is $300 more expensive than the most affordable Mac mini was previously.
A middle-tier base model is available with a 3.0GHz 6-core processor, 8GB RAM, Intel UHD Graphics 630 and a 256GB SSD for $1,099.
Apple has added plenty of upgrade options aimed at pro level Mac mini users who want the fastest desktop-class machine in the smallest package.
A maxed out Mac mini with a 3.2GHz 6-core Intel Core i7 processor, Intel UHD Graphics 630, 64GB RAM, a 2TB SSD, and upgraded 10 Gigabit Ethernet is priced at a whopping $4,199.
Despite the high price tag, the upgrade options should make Mac mini customers who were awaiting more powerful features happy with this year's refresh. Prior to today, the Mac mini had not been updated since 2014.
The new Mac mini is available for pre-order today and orders will be delivered starting on November 7.