Here Are All of the Apple Logos Included in the October 30 Event Invites
For its upcoming October 30th event, Apple sent out unique media invites this year, with a different Apple logo on each and every one. The artwork for the Apple logos varies from the abstract to the classic, with Apple tapping multiple artists for the design.
As it turns out, there were more than 350 one-of-a-kind Apple logos created for the event invites, which we're sharing in high resolution today.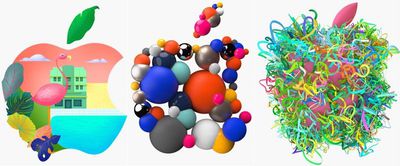 A MacRumors reader was able to download the full collection of logos from Apple's site, and we've added them all to an Imgur album where they can be viewed and downloaded.
Apple's event is likely to explain where these logos came from, and there is speculation that they were designed using the upcoming iPad Pro and the rumored second-generation Apple Pencil, both of which are expected to be introduced at the October 30 event alongside new Mac models.



The October 30th event is being held in New York City, which means it will start at 10:00 a.m. Eastern Time instead of the standard 10:00 a.m. Pacific Time used for West Coast events.
Apple is planning to live stream the event on its website and through the Events app on the Apple TV, but for those unable to watch, MacRumors will have live coverage here on the site and on our MacRumorsLive Twitter account.