iPhone XR No Longer Available for Launch Day Delivery From Apple
In the United States and several other countries, the iPhone XR is no longer available for launch day delivery from Apple's online store.
All colors and capacities from all carriers are listing a delivery date of one to two weeks, with new orders made today set to arrive from November 5 to November 12.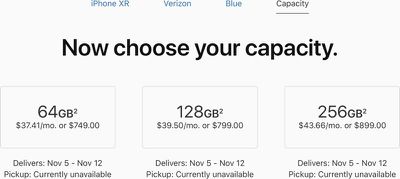 In store pickup for the iPhone XR is also no longer available for orders placed today via Apple's website or the Apple Store app, with Apple likely saving remaining supply for walk in purchases on launch day.
After pre-orders launched last Friday, the iPhone XR remained largely in stock in the United States, though some T-Mobile yellow iPhone XR options sold out.
There's no longer an option to order online for launch day delivery, but Apple should have plenty of supply for people who want to make a purchase after the iPhone XR launches on Friday, October 26.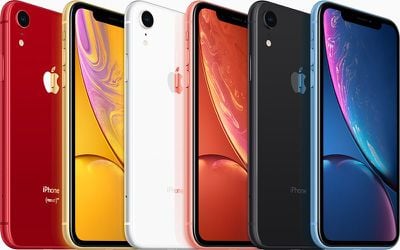 Apple's carrier partners and major retailers like Best Buy are also offering the iPhone XR and some still have stock available for launch day delivery for online orders.
Priced starting at $749, the iPhone XR is Apple's lowest-priced flagship iPhone. It features Face ID, an edge-to-edge LCD display, a single-lens camera, a glass body for wireless charging, and a super fast A12 Bionic processor.