Game Developers Discuss How Apple Could Improve Gaming on Apple TV
Last week, Minecraft: Apple TV Edition was removed from the tvOS App Store and developer Mojang announced that anyone who was still playing the game on Apple TV would no longer see any updates or further support. In a statement, the company said that it needed to reallocate resources "to the platforms that our players use the most."
In a new article shared over the weekend, Ars Technica spoke with a few game developers in the wake of Minecraft's removal from the tvOS App Store, attempting to gain a consensus on what they think Apple needs to do to make the Apple TV a true gaming device. Strange Flavour CEO Aaron Fothergill said that Apple could do this by doing a better job of supporting Game Center across platforms, and creating its own gaming controller to bundle in with an Apple TV, "so there's an Apple TV being sold specifically for games."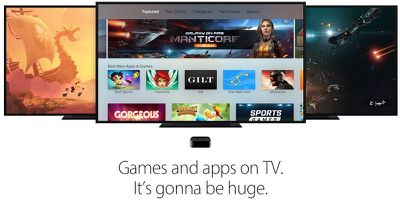 Developer Patrick Hogan also indicated support for Apple to build its own full-featured gaming controller and include it in "every" Apple TV box, while other developers Ars Technica spoke with believed an optional gaming Apple TV bundle would suffice. Continuing, Hogan said Apple's marketing for Apple TV should emphasize gaming more, and the company should "spend a lot of money on funding platform exclusives, ports, and presence at every major gaming expo and conference to break the chicken-egg problem of getting customers to make it viable to devs."

Most of the developers I spoke with seemed to believe the same thing I did when I reviewed the Apple TV: there's a lot of potential here for this to be the Apple gaming console that people have speculated about for years. But, they add, Apple just isn't trying hard enough to let consumers know what the TV can do or to make it easy for them to use the TV explicitly for gaming purposes.
Although the fourth and fifth-generation Apple TV devices have the hardware for powerful gaming support, Apple's actions so far have not indicated it intends to lean into presenting the Apple TV as a video game console. Even Game Center, which previously had a dedicated iOS app and social features, was downgraded to an optional integration for third-party gaming apps in iOS 10.
Apple also hindered gaming development on tvOS at the start by forcing developers to build in support for its touch-based Siri Remote in every gaming app, despite the fact that the Apple TV supports third-party Bluetooth controllers. Apple dropped this requirement within the fourth-generation Apple TV's first year on the market, but many developers mentioned that this left a poor first impression for the Apple TV as a true gaming device.
Still, most of the developers that Ars Technica spoke to remain positive about Apple TV's future as a gaming device. Team Alto lead Ryan Cash commented on the removal of Minecraft, bemused that Mojang and Microsoft completely axed the game as the Apple TV platform "continues to grow."

"If I were in charge of the game though, I think I'd really try to stay there. While the platform certainly isn't the biggest, it continues to grow, and it's a great way for certain types of audiences to experience gaming, often for their first time."
As of now, Apple's focus on the Apple TV is likely its upcoming string of exclusive television shows, which are rumored to be free to customers who own an Apple TV, iPhone, or iPad. Looking to the future, the successor to the Apple TV 4K isn't expected until 2019 or later, as Apple typically goes a few years in between generations of Apple TV, unlike its other products which get more consistent annual updates. Because of this, there have not been any solid rumors yet as to what features or improvements will be coming to the next Apple TV.