Apple to Offer Original TV Content Free to Apple Device Owners
Apple is developing a new digital video service that will combine the company's own subscription services and original television content with content from various media companies, reports CNBC.
Citing sources familiar with Apple's plans, CNBC says that Apple will provide Apple-owned and created content for free to customers who own devices like the iPhone, iPad, and Apple TV, with the television shows housed in the company's TV app.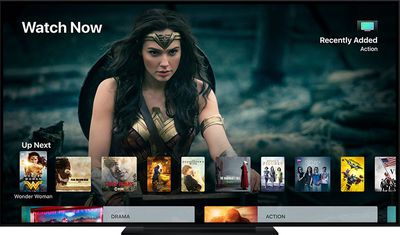 Apple already offers its current popular TV show, "Carpool Karaoke: The Series" for free to all users within the TV app. "Carpool Karaoke" was initially limited to Apple Music subscribers, but was moved to the TV app as a free offering earlier this year.
The upcoming streaming service will also include subscription channels where customers will be able to sign in to access content from other companies like HBO and Starz. The channels will be similar to Amazon Prime Video channel subscription options, with customers able to access all of their content within the TV app rather than needing to download and sign into individual apps.
Apple has more than a dozen original television shows in the works right now, with the company aiming to produce television shows with broad consumer appeal that won't taint its brand image. For that reason, rumors suggest Apple is avoiding risqué content that avoids nudity, raw language, and violence.
Current shows run the gamut from sci-fi to comedy, with a full list of all of Apple's products available in our Apple TV roundup. Several shows have started the casting process, including "Serial," a drama about a podcast that reopens a murder case, an untitled space drama from Ronald D. Moore, and an epic world-building drama called "See."
Rumors have suggested Apple is spending $1 billion on original content in 2018, and according to CNBC's sources, the company has been seeking out "tent pole" franchises that could draw customers to a future Netflix-style subscription service.
Peter Stern, who joined Apple in 2016, is working alongside iTunes chief Eddy Cue to establish deals with media companies in an attempt to put together Apple's planned streaming service. Stern is said to have a lighter touch than Cue, with experience in the cable industry that could help him secure the content deals Apple has previously been unable to attain.
To go along with the video subscription service, Apple is also aiming to talk print media companies into joining Texture, the magazine subscription service that it purchased earlier this year. News organizations are reluctant to give Apple control of the subscriber billing relationship, a struggle Apple will need to overcome to establish a full newspaper and magazine subscription service.
Apple is planning to launch a revamped TV app in early 2019, which is likely when we'll hear more about its upcoming subscription plans.