Quicken today announced the launch of Quicken 2019, the newest version of its popular finance and budgeting software for PC and Mac.
Quicken 2019 introduces web access for the first time, designed to allow Quicken customers to manage their finances online using Chrome, Safari, and other web browsers.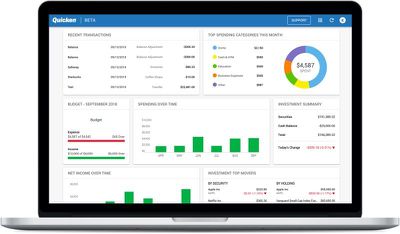 Users are able to check their balances, monitor transactions, view budgets, check spending trends, view past expenses, and access info on their accounts and investment holdings at any time.
A customizable web dashboard created for the web access experience lets customers customize their personal view to see full details on all features Quicken has to offer or a streamlined view with just essential information.
"Millions of people use Quicken to help them manage their financial lives. Because Quicken is important to them, our community of users is incredibly engaged. We prioritize updates primarily based on feedback from these users, and adding web access was the number one requested enhancement," said Eric Dunn, Chief Executive Officer of Quicken. "As an agile, independent company, we've been able to deliver this highly-anticipated feature, among other exciting new customer-inspired updates, on schedule and with great quality. This increased pace of releases and improvements is something our customers can count on and look forward to in the future."
Quicken 2019 also features several enhancements on the desktop, which are designed to offer up an overall faster experience. Quicken for Mac, for example, is up to twice as fast.
The software opens up quicker, charts and graphs load twice as fast, and backing up is four times faster than it was in previous versions of Quicken.
Quicken in 2018 launched a new monthly membership feature so customers who pay for a subscription will get access to Quicken 2019 at no additional cost. There are several plans available for purchase at different price points.
Quicken Starter with budgeting is available for $34.99 for a one-year membership, while Quicken Deluxe is available for $49.99 per year.
Quicken Premiere, with portfolio monitoring functionality and tax advice, is priced at $74.99 per year, while Quicken Home & Business is priced at $99.99.