Apple Looking Into LTE Connectivity Issues Affecting Some iPhone XS and XS Max Owners
Apple is looking into reports that some customers are experiencing LTE connectivity issues with the newly released iPhone XS and iPhone XS Max.
According to one iPhone XS Max owner, Apple is conducting an outreach program with some customers who have a new device that is experiencing LTE problems.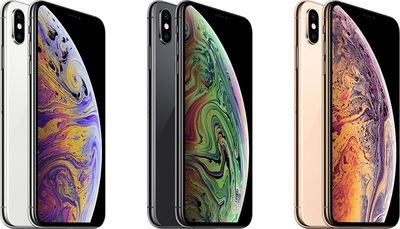 Apple has asked him to install a baseband logger to track his cellular connection, presumably to figure out if there are any serious issues that need to be resolved. We've heard similar reports from MacRumors readers who have been asked to provide device logs to engineers when troubleshooting the issue.
@reneritchie Apple just reached out to me to see if I could answer some questions about my Xs Max reception issues they're doing an outreach to some affected users and are asking to install a baseband logger to track my connection to the tower — Devin Meredith 🇺🇸🧐 (@Devmer11) October 3, 2018
iPhone XS and XS Max owners began complaining about
LTE connectivity and signal problems
shortly after the two devices launched on September 17. Many users have
discovered noticeable differences
in cellular reception between iPhone XS models and older iPhones like the iPhone 8 and the iPhone X.
Affected users have noticed fewer bars and poorer signal on iPhone XS and XS Max compared to older devices, but it doesn't appear to be a universal problem. While some people have complained of weak connectivity and slow speeds, others have noticed LTE improvements, which confuses the issue.
Many of the early complaints came from Verizon users, suggesting there are perhaps carrier firmware issues that need to be resolved, but it's unclear if carrier firmware is the full extent of the problem.
In the most recent iOS 12.1 beta, Apple updated the modem firmware in the iPhone to version 1.01.20-1, up from 1.01.12 in iOS 12.1 beta 1. On the Verizon network, the iOS 12.1 update also introduces new 33.5.6 carrier firmware.

New firmware on left, iOS 12.1 beta 1 firmware on right


Modem firmware updates are a routine part of major .1 iOS releases, so it's not yet clear if the new firmware specifically addresses issues that customers have been experiencing with LTE connectivity.
Early reports on the MacRumors forums have, however, suggested that iOS 12.1 does indeed bring some improvements. MacRumors archer75, for example, says the update has doubled his LTE speeds. Other users, though, have said the update does not address LTE problems.
Regardless of whether a fix has been bundled into the iOS 12.1 update, Apple is taking reports of LTE problems seriously and investigating what might be going on, so should this be a software-related issue, a resolution is likely in the works.