iPhone XR Receives FCC Approval Ahead of October 19 Pre-Orders
Apple received approval from the FCC today to sell the iPhone XR in the United States, ahead of pre-orders next month.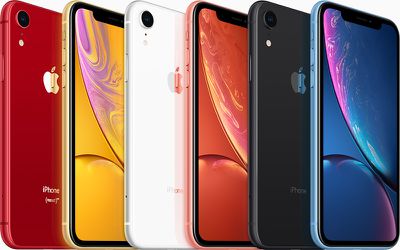 Apple can now remove the following fine print from the iPhone XR product page on its website, although it has yet to do so:
iPhone XR has not been authorized as required by the rules of the Federal Communications Commission. iPhone XR is not, and may not be, offered for sale or lease, or sold or leased, until authorization is obtained.
iPhone XR pre-orders begin Friday, October 19, with the first deliveries to customers and in-store availability starting a week later, on Friday, October 26. The colorful device starts at $749 in the United States.
With a $250 lower price point, the iPhone XR doesn't have all of the bells and whistles of the iPhone XS or iPhone XS Max. Some of the trade-offs include an LCD rather than OLED display, an aluminum instead of stainless steel frame, and a single rather than dual rear camera. Read our full comparison.
Nevertheless, the iPhone XR has the same A12 Bionic chip as the iPhone XS and iPhone XS Max, and its advertised battery life is longer than both of those devices. It also has a nearly edge-to-edge display with a notch, Face ID, a glass back, wireless charging, Portrait Mode with Depth Control, and Smart HDR.
Given its many similarities to the iPhone XS and iPhone XS Max, priced from $999 and $1,099 respectively, many tech reviewers have suggested waiting for the less-expensive iPhone XR. Orders begin in three weeks.
As far as FCC approval is concerned, it is a routine step before the launch of any new iPhone. However, Apple usually waits until the last minute to receive approval from the necessary regulatory agencies, whereas the iPhone XR has been somewhat surprisingly approved nearly a month ahead of sale.