Thousands of Customers Waiting in Line at Apple Retail Stores for iPhone XS, XS Max and Apple Watch Series 4 as Global Launch Continues
iPhone XS, iPhone XS Max, and Apple Watch Series 4 have started rolling out in Australia and New Zealand where it is after 8:00 a.m. on Friday, September 21, and in other countries, as the launch date approaches, customers are queueing up with the hopes of purchasing one of Apple's new devices.
At the Orchard Road store in Singapore, where the new smartphones and watches will be available in a few hours, hundreds of people are waiting and have been camped out since much earlier in the day.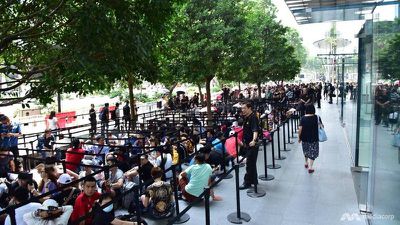 It's hot in Singapore, so potential customers have been provided with numbered wristbands to mark their place in line and are allowed to leave for up to one hour for meal breaks.
There's a similar scene at Apple's Berlin store, where customers have been lining up overnight. Berlin customers still have several hours to wait before the new devices are available in the country.
Customers in Austria are also lining up to get an iPhone XS or iPhone XS Max, but with hours to go, the line is still small.
Apple's iPhone XS and XS Max were not particularly constrained when pre-orders launched, but some iPhone XS Max models began selling out for launch day shipments within about a half hour of when pre-orders went live. Apple Watch Series 4 models were harder to come by and sold out quickly.
Orders placed for iPhone XS, XS Max, and Apple Watch orders from Apple today will not ship out until October, which is likely why many customers are trying their luck waiting in line for a walk-in purchase.
Customers in the United States who did not pre-order and who are hoping for a launch day device should get to an Apple retail store or carrier store as early as possible.
Are you planning to wait in line for an Apple device this year? Let us know in the comments.