The new iPhone XS, XS Max, and iPhone XR models all come equipped with support for dual-SIM functionality through the inclusion of a standard nano-SIM slot and an eSIM, a feature that has previously been used in iPad models.
According to Apple's website, eSIM functionality will not be available when the new iPhones launch, with the company instead planning to introduce it later this year through an iOS 12 software update.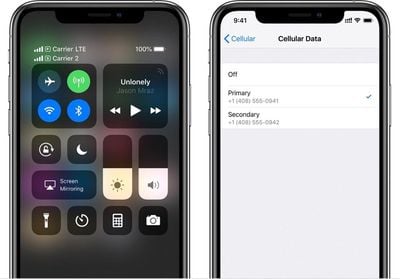 Dual-SIM support will allow the iPhone XS, XS Max, and XR to support two cellular plans at once. This is useful for people who have two phone numbers for work and personal use and for travel.
Both numbers used with a dual-SIM iPhone can make and receive voice calls and receive SMS and MMS messages, but an iPhone can only use one cellular data network at a time. That means if one number is on a call, a call to the other number will go to voicemail.
There will be a section in the iOS 12 settings to establish a default number and to label both cellular plans that are in use, with Apple outlining these features in a support document. You will be able to easily make and receive calls from both numbers and switch phone numbers for a call.
Not all carriers are going to support eSIM functionality, but in the United States, it will work with Verizon, AT&T, and T-Mobile devices. Apple has a full list of carriers offering eSIM support on its website.
Dual-SIM functionality will be available in all new iPhone models and it appears to be available in all countries, despite rumors suggesting it could be limited to countries where multiple SIM use is more popular.
eSIMs are not allowed in China, so in this region specifically, Apple is introducing iPhones that support two physical SIMs. Other countries will have devices that support one physical SIM and one eSIM.