Netflix Tests Disabling In-App Subscriptions on iOS in Some Countries
Netflix is already one of the highest grossing apps on the App Store, as many iPhone and iPad users pay for their subscriptions via iTunes/Apple ID billing, but the streaming video platform wants an even bigger piece of the pie.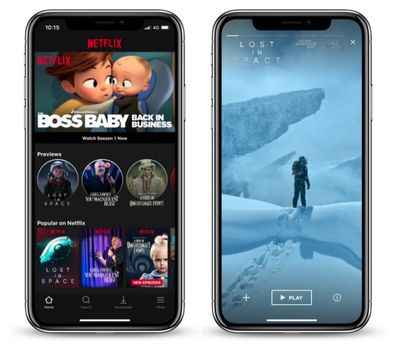 TechCrunch today reported that, until September 30, new or lapsed subscribers in some 33 countries will be unable to pay using iTunes.
The countries: Argentina, Australia, Austria, Belgium, Brazil, Canada, Colombia, Croatia, Czech Republic, Denmark, Ecuador, Finland, France, Germany, Hungary, India, Italy, Indonesia, Japan, Korea, Malaysia, Mexico, Norway, Peru, Philippines, Poland, Slovakia, South Africa, Spain, Sweden, Taiwan, Thailand, and the UK.
A customer service representative for Netflix confirmed the test with TechCrunch:
During this time, customers in these countries may experience any of the following when launching the Netflix app on an iOS (mobile or tablet) device:

1. Ability to sign up in app with only iTunes Mode Of Payment.
2. Ability to log into Netflix but not sign up (sign up only via mobile browser).

We are constantly innovating and testing new signup approaches on different platforms to better understand what our members like. Based on what we learn, we work to improve the Netflix experience for members everywhere.
This means that some iPhone and iPad users who open the Netflix app will only be able to sign into an existing, active account, with no option to create a new account. By the sound of it, Netflix is hoping that these users will close the app, and sign up through its mobile website or elsewhere with a credit card.
Apple collects a 30 percent commission—15 percent after the first year—from users who subscribe via its in-app purchase mechanism, so it's pretty clear that Netflix is trying to avoid padding the pockets of one of its biggest competitors, which just so happens to be working on a Netflix-like service itself.
Of note, Apple's App Store Review Guidelines state that developers are not permitted to "directly or indirectly target iOS users to use a purchasing method other than in-app purchase," but it appears that Netflix has worked around this rule by simply not offering new users the option to sign up in-app whatsoever.
We've reached out to Apple for comment.