Apple has added two China-based manufacturers to its list of MacBook chassis suppliers in an effort to push down prices quoted by Taiwan-based makers, according to a new report today by DigiTimes.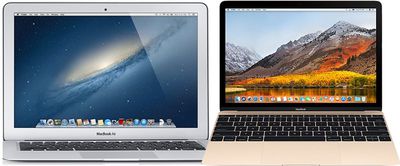 China-based Shenzhen Everwin Precision Technology and AAC Technologies are said to have obtained Apple certification in 2017, and this year they began small-volume shipments of the metal-alloy chassis for Apple's notebook line-up.
Previous years saw Taiwan-based Catcher Technology, Foxconn Technology and Casetek Holdings dominate the supply of MacBook chassis, and Apple reportedly intends to continue relying on them because of their excellent manufacturing capabilities, but not before it has capitalized on the Chinese makers' lower production costs.
DigiTimes' sources indicate that for Taiwan makers, competition from China rivals will have more impact on their gross margins than on order volumes. To offset the impact, Taiwan companies have increasingly sought orders from Chinese brand vendors of high-end devices like laptops. Responding to the rumored potential of Chinese competition for Apple's business, for example, Catcher said its outlook for 2018 remained unchanged.
Apple is expected to release a new low-cost MacBook Air later this year that will be similar in design to the current MacBook Air, but with slimmer bezels around the display. Based on the latest rumor, the new machine will be a straight MacBook Air upgrade aimed at students and schools, with a lower price tag than MacBooks in the MacBook family.
It remains unclear how a new 13-inch Retina MacBook Air fits in with Apple's existing 12-inch Retina MacBook lineup, so the company's plans for its upcoming notebook range could still throw up a surprise or two.