Apple Investigating Battery Incident at Amsterdam Store, No Customers or Employees Required Medical Attention
Yesterday afternoon, first responders were called to an Apple Store in Amsterdam, reportedly due to a leaking iPad battery on the premise. Apple has since confirmed that it is investigating the incident, but ensures that the store has been declared safe, and that there were no injuries of any kind reported.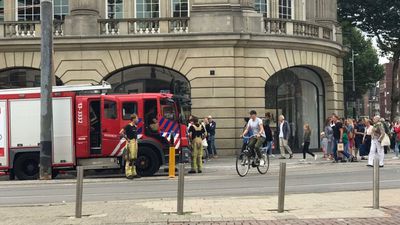 Image Credit: AS Media
MacRumors received the following statement from an Apple spokesperson:
We're currently investigating the incident that took place at Apple Amsterdam on Sunday. Our staff were able to evacuate customers quickly and safely and the store re-opened shortly afterwards.
Apple says no customers were impacted, nor did any employees end up requiring any medical attention. The local fire department and medical professionals were alerted as a precautionary measure only. Apple says the fire department declared the store and damaged device, safe, shortly afterwards.
At 2:20 p.m. local time on Sunday, the Amsterdam fire department had tweeted that crews were on the scene. The tweet confirmed there was "no smoke" at the store, but three people with possible respiratory issues.
A spokesperson for the fire department cited a "leaking battery pack" as the probable cause of the incident, which reportedly caused panic among customers more than anything. It was an unfortunate situation, for sure, but headlines claiming an iPad battery exploded or burst into smoke and flames are inaccurate.
Our understanding, based on an anonymous but corroborated tip, is that a damaged iPad was sitting on a shelf in a back room, in a queue of devices to be repaired by Genius Bar technicians. At some point, employees noticed that the iPad's battery was leaking, and took the same precautionary measures as any thermal event.
The fire department reportedly aired out the store by around 3:00 p.m. local time, after which time it re-opened for business as usual.