Another Report Says Second-Generation iPhone X and iPhone X Plus Will Support Apple Pencil
Apple's second-generation iPhone X, and a widely expected 6.5-inch model dubbed the iPhone X Plus, will both be compatible with the Apple Pencil, according to Taiwanese publication Economic Daily News.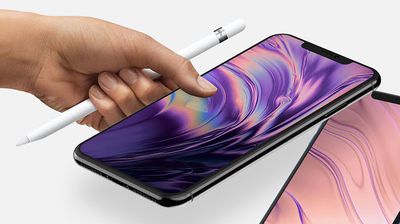 The report, citing "industry insiders," claims that Apple Pencil support will be limited to those OLED models, meaning that Apple's upcoming lower-cost 6.1-inch iPhone with an LCD will not work with the drawing tool. Taiwanese research firm TrendForce
shared the same prediction
earlier this week.
Apple Pencil launched in November 2015 alongside the original 12.9-inch iPad Pro, and it works with all other iPad Pro models released since. Last March, Apple expanded the tool's compatibility to the new sixth-generation iPad, a lower-cost, 9.7-inch model targeted at students and the classroom.
If these rumors prove to be true, this would be the first time Apple releases its own stylus for the iPhone in the device's 11-year history.
When introducing the original iPhone in 2007, Apple's late co-founder Steve Jobs quipped that "nobody wants a stylus" with a smartphone, but Apple has played the semantics game in insisting that the Apple Pencil is a drawing tool. It's also been over a decade since Jobs made that comment—things change.
It's unclear if Apple will release a smaller Pencil for the iPhone, as the current version could be rather unwieldy for use with an iPhone. Apple has yet to update the Pencil's design since it first launched three years ago.
A stylus on a mobile device is nothing new, but only a handful of modern smartphones have one, including the Samsung Galaxy Note with the S Pen, which can be used to draw on the screen, handwrite notes, annotate documents, and more.
Designed to mimic the feel and sensation of using a pen or a pencil, the Apple Pencil has built-in sensors to determine orientation and angle, and to detect a range of forces for pressure-sensitive drawing and writing. On the iPad Pro, the Apple Pencil is sampled at 240Hz for minimal latency.
Apple is expected to unveil a trio of new iPhones at its usual September event at Steve Jobs Theater, and Apple Pencil support would surely be a headline feature if true. A new Apple Pencil altogether is certainly a possibility too.