Google Pixel 3 XL Production Unit Leak Reveals Taller iPhone X-Like Notch
Although Google's major fall event is still about two months away, typically occurring in October and ushering in a new generation of Pixel smartphones and other products, today leaked pictures have been shared online highlighting the upcoming Google Pixel 3 XL.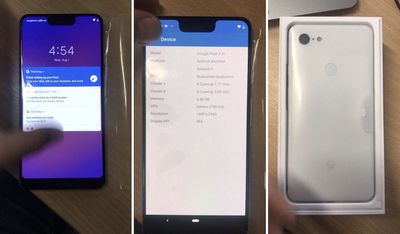 The images depict an alleged "pre-release" final production unit of the Pixel 3 XL smartphone, sourced from a Russian tech blogger (via
Android Police
). Images showcase the rear and front of the device, with an iPhone X-like notch at the top of the Pixel 3 XL's display that's not as wide as Apple's, but is noticeably taller.
Previous CAD leaks suggest that a smaller 5.4-inch Pixel 3 will not have a notch, while the larger 6.2-inch Pixel 3 XL is what appears in the images today, notch included. It's believed that Google is using the notch to house improved cameras, including two camera lenses.


Per Bloomberg, from a report in May:

The bigger Pixel will include two camera lenses on the front of the phone inside of the notch, one of the people said.

The notch, or cutout, at the top of the new larger Pixel's screen won't be as wide as a similar feature on the iPhone X, but is noticeably taller, according to the people. Google aims to eventually remove the bezels completely in a future Pixel, but is retaining the notch and chin this year to keep stereo speakers on the front of the phone, the people said
Additionally, the images suggest that customers will get "Pixel Bud-esque" wired USB-C earphones with the Pixel 3 XL. There also appears to be a charging brick, charging cable, and a USB-C to 3.5mm adapter in the box. The unboxing images depict "what looks to be a pretty new iPhone-like wallpaper," as Android Police points out.
Software running on the units was Android 9 with an 8-core Qualcomm processor and an Adreno 630 GPU. The Pixel 3 XL in the images also has 4GB of RAM and a resolution of 1440x2960 with a pixel density of 494 PPI.


Following the release of the iPhone X in November 2017, clones of Apple's notch style hardware began surfacing in December and throughout 2018. In March, Google announced Android P, which introduced software support for display notches that are built into the Android smartphones mimicking Apple's design.
For Apple, the company decided on the notch-style design in order to maximize the available display area of the iPhone X, while also still leaving room for the various sensors and tech that make up the TrueDepth camera system for Face ID. Although Android smartphones are copying Apple's design, many of them lack the front-facing biometric security features as the iPhone X and instead opt for fingerprint scanners.