Apple Releases Fourth Public Beta of iOS 12
Apple today seeded the fourth public beta of iOS 12 to public beta testers, giving non-developers a chance to test the software ahead of its upcoming fall release. The fourth iOS 12 public beta, which comes two weeks after the third public beta, corresponds to the fifth developer beta released earlier this week.
Beta testers who have signed up for Apple's beta testing program will receive the iOS 12 beta update over-the-air after installing the proper certificate on an iOS device.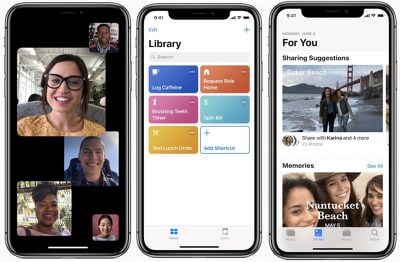 Those who want to join the beta testing program can sign up on Apple's beta testing website, which gives users access to iOS, macOS, and tvOS betas. Before installing a beta, make sure to create a full encrypted iTunes backup or an iCloud backup and be sure to install iOS 12 on a secondary device because beta software is not always stable and can include bugs.
Today's iOS 12 beta introduces several new bugs that testers should be aware of:
After restarting a device, paired Bluetooth accessories might not function correctly or might be displayed using the device's address instead of name.
Using Apple Pay Cash to send or request money via Siri might result in an error.
When using CarPlay, Siri can't open an app by name. Shortcuts that involve opening an app won't work, and Shortcuts that require confirmation might not work.
Some Shortcuts requests might not work.
When multiple ride-sharing apps are installed, Siri might open an app instead of providing an ETA or location when asked. Apple suggests asking again as a fix.
Users might not see custom UI when using Siri Suggestions Shortcuts with built-in intents.
Several existing bugs have been addressed in the update, including error messages in the App Store when attempting to install an app, an inaccurate cellular signal bar on iPhone X while on Lock screen or Home screen, a bug that caused Wallet to crash on launch, and a failure for Screen Time usage and data settings to sync between devices. Shortcuts will also mostly work in CarPlay now, and will be restored from iCloud backups.
Other changes in the new iOS 12 beta: Screen Time in the Settings app no longer lists family members who aren't children, it needs to be reenabled after updating to the new beta, and there are hints of a future HomePod software update that will enable phone calls directly from the speaker. For more details on the beta, check out our iOS 12 beta 5 developer article.
The iOS 12 update introduces major changes like Group FaceTime, local multiplayer shared AR experiences, new Animoji, and a Memoji feature that's designed to let you create a personalized Animoji that looks just like you.
Animoji, stickers, text, and more can be used in FaceTime and the Messages app through the new Effects camera, and there's a Screen Time feature to help customers understand and manage the amount of time they're spending on their iOS devices. There are options to limit app time and it includes comprehensive controls for parents.
New Do Not Disturb features make it easier to manage notifications, as do interactive notification options and notification grouping on the Lock screen.
Siri has been improved in iOS 12 with Siri Shortcuts, a feature designed to work with third-party apps to let you create voice-activated automations, and Siri is also smarter and able to provide info on motorsports, food, and celebrities. Later in the year, Apple will launch a Shortcuts app so you can create your own shortcuts.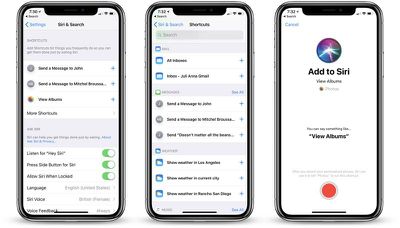 Under-the-hood improvements to iOS 12 will make everyday tasks on the iPhone and iPad faster and more responsive, with the camera launching up to 70 percent faster and the keyboard showing up to 50 percent faster.
iOS 12 also includes a rebuilt Maps app with a new Apple-designed Maps engine that's available in Northern California at the current time. When iOS 12 launches in the fall, it will additional locations across the United States.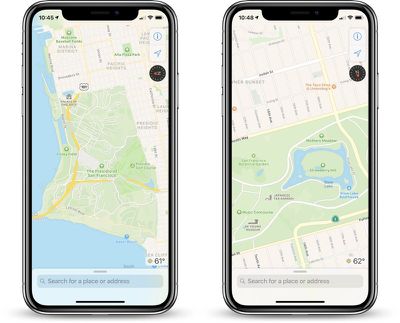 The revamped Maps app displays foliage, pools, buildings, pedestrian pathways, and other map elements more accurately, and it brings improvements to traffic, real-time road conditions, construction notices, and more.
iOS 12 will be available to developers and public beta testers as a beta for the next two months to allow Apple to work out bugs and other issues ahead of a fall launch alongside new iPhones.