iOS Grew U.S. Market Share This Spring Thanks to 'Unprecedented Depth' of Price Options as Android 'Felt the Heat'
In the United States, iOS saw significant growth in the three months ending June 2018, with market share up 5.9 percentage points to 38.7 percent as tracked in the newest data from Kantar Worldpanel ComTech. Helping to boost iOS performance were sales for the iPhone 8 and iPhone 8 Plus, together accounting for nearly one in five smartphones sold in the time period.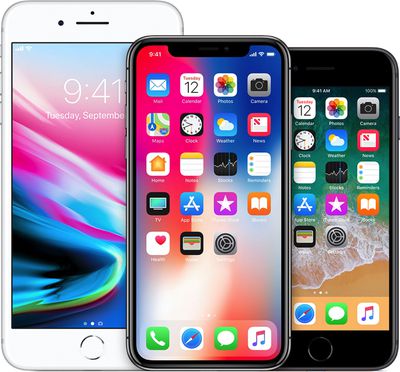 Apple's other flagship smartphone from 2017, the iPhone X, was the fourth best-selling device during the April–June 2018 period in the United States. As iOS grows in the United States, Samsung and LG smartphones have "felt the heat" recently, with Android's operating system dropping 4.5 percentage points in the U.S. market during this time, down to 61 percent.
Kantar Worldpanel's Dominic Sunnebo explains that iPhones made up eight out of the ten best-selling smartphones in the three months ending in June, thanks in part to Apple's "unprecedented depth" across the price spectrum of its smartphones. Currently, customers interested in iPhone can start as low as $349 for the iPhone SE, or opt for the high-end 256GB iPhone X at $1,149.00.
"Apple continues to wield huge power in the US market, with iPhone models making up eight out of the ten best-selling models in the past three months. Apple currently enjoys unprecedented depth across the smartphone price spectrum, ranging from the iPhone SE to the $1,000 iPhone X; resulting in continued growth and hitting Samsung and LG hard. While Samsung is well represented at the premium end of the market with its S9 and Note series, and its budget orientated J series helps compete against LG, lack of depth in the mid-high tier is allowing Apple to find a new avenue for growth."
iPhone X continued to be the top-selling device in China, making up 5.3 percent of all handsets sold during the period and becoming the best-selling smartphone in the country every month since it was released in November 2017. iOS still dropped 2.1 percentage points during this time, however, down to 19.4 percent of the smartphone OS sales share in China, while Android grew 2 percentage points to 80.4 percent.


Elsewhere, iOS sales share grew in Germany (2.8 percentage points), France (4.2), Spain (3.8), Australia (0.5), and Europe (1.3). As iOS grew in these territories, Android (and other operating systems) saw their shares dip. Android's 4.5 percentage point drop in the U.S. was its greatest loss, which is notable as one of the biggest drops for the Android OS in Kantar's U.S. tracking over the last year.
Android did manage to gain share against iOS in a few other countries beyond China, including Italy, Japan, and the UK.
For Apple, the company didn't launch an iPhone in the spring like it has done in previous years such as with the iPhone SE in 2016 and the revamped storage capacities in 2017, so it is interesting that Apple still managed to boost smartphone OS share without a brand-new product.
As we enter the second half of 2018, Apple is expected to debut three new iPhones in September -- a second-generation iPhone X, 6.5-inch "iPhone X Plus," and 6.1-inch low-cost iPhone -- which will likely see iOS boosted even more into the holiday season, although the upcoming months typically see iOS's share dwindle as people await fall updates.