Apple may adopt LED backlighting chips for the LCD panels in its forthcoming 6.1-inch iPhone that enable it to reduce screen bezel size and bring LCD panels closer to bezel-free OLED screens.
DigiTimes reports that Japan-based Nichia will become the exclusive supplier of the LED chips for use in backlighting of the panels used in the 6.1-inch LCD iPhone, which Apple is expected to launch around September.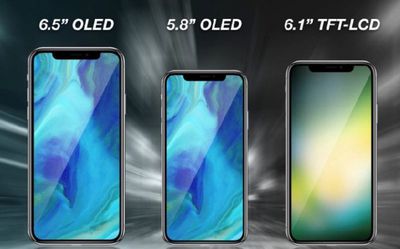 While LTPS-LCD smartphone screens with backlights using 0.4t LED chips have bottom bezels of 4.0-4.5mm, use of 0.3t LED chips can reduce them to 2.0-2.5mm, enhancing LCD screens' competitiveness against OLED all (bezel-free) screens panels, the sources explained.

Packaging of 0.3t LED chips for side-view backlighting of LTPS-LCD smartphone panels is more difficult in accuracy and stability than that of 0.4t LED chips, the sources noted, adding Nichia began trial production of 0.3t LED chips for use in high-end smartphone models launched by China- and Japan-based vendors in the first half of 2018.
Apple is expected to launch three new smartphones later this year: Two OLED models measuring in at 5.8 and 6.5 inches and a 6.1-inch lower-cost LCD model. All three are believed to feature Face ID and edge-to-edge displays.
Apple analyst Ming-Chi Kuo, who first predicted Apple would introduce a low-cost LCD iPhone, believes the device will have a price tag that comes in at $700 to $800, similar to the iPhone 8 and the iPhone 8 Plus.
Previous rumors have suggested the use of upgraded display technology in the lower-cost device. For example, Apple may use Full Active LCDs from Japan Display, which are said to match or exceed some of the benefits of an OLED display at a lower cost. Japan Display is said to be ramping up LCD production in an effort to fulfill orders from Apple.
According to The Wall Street Journal, sources involved with Apple's supply chain claim that Apple now expects LCD models to make up the majority of iPhone sales in its upcoming lineup. Apple initially wanted roughly equal production of iPhone models with LCDs and OLED displays, but now plans to make more of the LCD model, as it supposedly anticipates strong customer demand for the more affordable X-like model.
DigiTimes sources suggest trial production of the 6.1-inch iPhone will begin in July, with small-volume production in August and volume production beginning September. Based on that timeline, Nichia's production capacity for the enhanced LED backlighting chips is expected to be booked up by Apple in the second half of 2018.
Additional details on what to expect in the iPhones coming in 2018, likely in the September timeframe, can be found in our 2018 iPhones roundup.