Apple today updated its GarageBand music creation software for Mac to version 10.3, introducing new loops, sound effects, drummers, and more, all for free.
There are two new Drummers that offer Roots and Jazz-influenced brush styles, along with 1,000 new electronic and urban loops that cover genres like Reggaeton, Future Bass, and Chill Rap.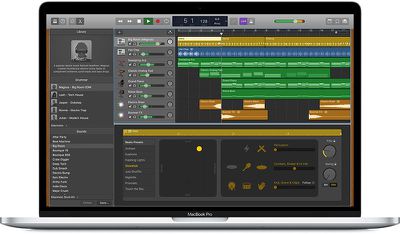 Apple says that it has added more than 400 animal, machine, and voice sound effects that can be worked into music creations, and there are also free downloadable Artist Lessons.
The new Artist Lessons are designed to teach users how to play hit songs on piano and guitar, and are taught by the artists that made the songs famous.
This is the first major update to GarageBand for Mac in a year. The last update, 10.2, was introduced in June 2017 and brought new Drummers along with support for the Touch Bar on the MacBook Pro.
Since April 2017, the GarageBand apps for both iOS and Mac have been available to download for free. You can get the new version of GarageBand for Mac from the Mac App Store. [Direct Link]