Apple Identifies Limited Hardware Issue With 2017 13" MacBook Pro Models With Function Keys
Apple has identified a limited hardware issue affecting the latest 13-inch MacBook Pro models with function keys, according to an internal memo distributed to Apple Stores and Apple Authorized Service Providers late last week.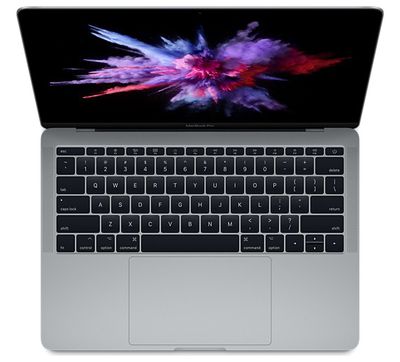 Namely, when either the MacBook Pro's solid state drive or main logic board experiences failure, both need to be replaced simultaneously. Apple's memo doesn't specify an underlying reason as to why both components may fail in tandem, or what percentage of units may be at risk of being affected.
An excerpt from the document, obtained by MacRumors from a reliable source:
Apple has identified a specific population of MacBook Pro (13-inch, 2017, Two Thunderbolt 3 Ports) units requiring both solid state drives and the main logic board to be replaced when either has a functional failure.

A message will appear when either the solid state drive or the main logic board part number is added to the repair of an identified MacBook Pro system. The message will indicate both the SSD and MLB must be replaced when either component has a functional failure.
For clarity, this refers to the 2017 model year 13-inch MacBook Pro with a standard row of physical function keys rather than a Touch Bar. Apple says the issue does not affect any other MacBook Pro models with or without the Touch Bar, including those released in 2016, according to the memo.
Apple says the dual SSD-logic board replacement is not required for unrelated issues, such as a cracked display or an unresponsive trackpad.
Apple appears to have authorized free repairs for this issue, in or out of warranty. If there is liquid damage or accidental damage, however, out-of-warranty fees may apply. Apple quotes a turnaround time of roughly five to seven days.
To initiate a repair, visit the Get Support page on Apple's website and select "Mac" → "Mac notebooks" → "Hardware Issues" → "The topic is not listed," explain the issue, and select continue. Then, select "Bring in for Repair" to schedule an appointment with an Apple Authorized Service Provider or Genius Bar.
There are also options to contact Apple's support advisors by phone or online chat to initiate a mail-in repair in select countries.
This issue could explain why the 13-inch MacBook Pro with function keys temporarily faced extended shipping estimates on Apple's online store last month, as Apple may have implemented a fix, although the brief shortage could have been purely coincidental. We've reached out to Apple for comment on the matter.
12:30 p.m. Pacific Time: Updated with corrected information about out-of-warranty fees.