Elgato today announced the launch of two new HomeKit-enabled accessories, the Eve Aqua and the Eve Flare.
The Eve Aqua is a HomeKit-enabled smart water controller, timer, and usage meter that's designed to control your sprinklers. With Eve Aqua, you can control your sprinklers or other irrigation system using the Eve app, the Home app, or Siri voice commands.


There is an auto shutoff feature so you can enable the Eve Aqua via a voice command and then trust it to shut off after a period of time. Like other Eve products, the Eve Aqua connects to a HomeKit setup using Bluetooth.
Using HomeKit timers and automations, you can create autonomous schedules for your sprinkler system with the Eve app, and if you have an iPad, Apple TV, or HomePod as a home hub you can control your outdoor irrigation while away from home.


In addition to offering control over your water system, the Eve Aqua is able to track water consumption based on an irrigation system's flow rate, with the information visible in the Eve app.
The Eve Aqua is UV and water resistant and can be left connected up to your irrigation system all the time.
Elgato's new Eve Aqua is priced at $99.95 and can be pre-ordered from the Elgato website in the United States starting today.
Along with the Eve Aqua, Elgato is also debuting the Eve Flare, a HomeKit-enabled portable LED lamp that's available exclusively in Europe.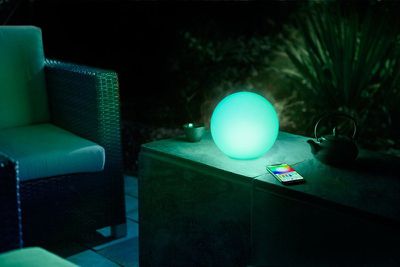 The Bluetooth-enabled Eve Flare is a round multi-colored indoor/outdoor lamp that's water resistant and able to offer six hours of illumination. It charges wirelessly and features a carry and hang handle. Like other HomeKit-enabled lamps, it can be controlled through Siri voice commands or through the Home app, and it can be set to any color of the rainbow.
Elgato is making the Eve Flare available for pre-order in Europe starting today for 99 euros.