Razer today announced the launch of its latest external graphics enclosure, the Core X, and alongside the debut of the new accessory, the company is also adding Mac support to its enclosure lineup.
Both the new Core X and the existing Core V2 external graphics enclosure are now compatible with all Macs that offer support for Thunderbolt 3, including the MacBook Pro, iMac, and iMac Pro.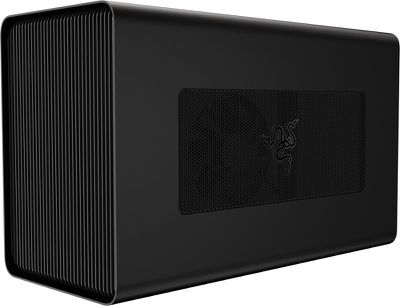 The Razer Core X, which also works with Windows machines, has been designed based on customer feedback Razer received after releasing the Core V2. Users wanted a wider external graphics enclosure able to fit larger 3 slot PCIe graphics cards, which the Core X delivers along with better cooling capabilities.
Razer designed the Core X to be future proof with the aforementioned larger enclosure and a 650W power supply that offers enough power to support all graphics cards on the market today and those coming in the future. While this is larger than the Core V2, Razer still designed it with desktop use in mind, so it's relatively slim and compact.


For those unfamiliar with Razer's Core series, the enclosures are designed to add additional graphics power to a Mac or a PC for tasks like gaming and system intensive workflows. With an external graphics enclosure, a machine not normally capable of handling GPU-intensive tasks can be hooked up to a powerful GPU. You will, of course, need to purchase a GPU alongside the Razer Core accessories - these are just enclosures.


To use the Razer Core X with a Mac, the machine must be running macOS 10.13.4 or later, and the Razer Core X needs to be equipped with an AMD Radeon card. It is not compatible with NVIDIA cards when used with a Mac at this time.
Pairing the Core X to a Mac is as simple as plugging the accessory into the Thunderbolt port on a compatible machine, with no restarting or fussing with settings needed. 100W passthrough charging is supported, so even the 15-inch MacBook Pro can charge when plugged into the Core X.
Razer designed the Core X to be more affordable than the slimmer V2 enclosure, and it is priced at $299. It can be purchased directly from the Razer Store starting today. Razer is also continuing to sell the Core V2 for $499.