Apple today added a new events page to its main website, confirming that the upcoming Worldwide Developers Conference keynote on June 4 will be live streamed and available to watch on the Apple website, through the WWDC app, and through the events app on the Apple TV.
Apple previously made it clear that the entire conference would be live streamed through the Developer website and in the WWDC app, but the new event page clarifies that the keynote will be available for all to watch even without a developer account, as it has been in past years.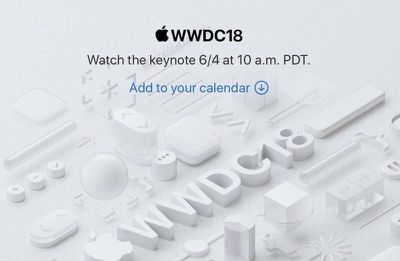 At the 2018 Worldwide Developers Conference, we are expecting to see Apple unveil next-generation versions of iOS, macOS, tvOS, and watchOS, with the software made available to developers later in the day for testing purposes ahead of a fall launch.
While we haven't heard specific details on hardware products coming at WWDC, there are multiple possibilities. Rumors have suggested we could potentially see new iPad Pro models and perhaps a new iPhone SE, and several Macs are due for a refresh, including the MacBook Pro, iMac, and 12-inch MacBook. Last year, these machines were refreshed at WWDC.
We're also waiting on the AirPower, Apple's promised charging mat that's designed to charge the newest iPhones, the AirPods, and the Apple Watch all at once, and alongside the AirPower, we're expecting a new wireless AirPods charging case. These could see a launch following WWDC.
We'll have more detail on what we can expect to see unveiled at WWDC next week.
For the June 4 keynote event, MacRumors will provide a live blog both here on MacRumors.com and on our MacRumorsLive Twitter account, along with detailed coverage of everything Apple announces during the week.