Apple to Participate in Pilot Program Allowing Expanded Operation of Drones [Updated]
Apple has applied to participate in a pilot program that would allow the company to operate drones in ways that are typically restricted by the Federal Aviation Administration in the United States, according to Reuters.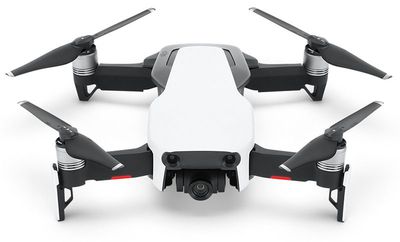 DJI Mavic Air
The report states that the U.S. Department of Transportation will announce 10 winning state or local government bodies for inclusion in the program today, and each has partnered with companies who will play a role in the tests. At least 200 companies are said to be vying to be part of the program.
The initiative, introduced by the U.S. government last year, will allow for a larger range of testing, including flying drones at night, over people, and beyond an operator's line of sight, within the United States.
The list of winners, which appears to have been determined, is said to include companies that plan to test drones for delivering packages, environmental monitoring, precision agriculture, pipeline oversight, and for various uses at airports, but it's unclear what Apple's intentions will be if selected.
Back in December 2016, Bloomberg's Mark Gurman reported that Apple planned to use drones to improve Apple Maps. The company itself does not sell any drones, aside from those made by other companies like DJI and Propel.
Update: The FAA has revealed the 10 government agencies who will conduct flight tests, including North Carolina's Department of Transportation. Apple will reportedly be a partner in North Carolina's program, and plans to use drones to capture aerial images to improve Apple Maps.
On the @Reuters wire now - Apple is a partner in North Carolina's drone testing pilot and plans to use drones to capture aerial images to improve Apple Maps. Apple will blur things like faces and license plate numbers to protect people's privacy, the comapny says. pic.twitter.com/nWmEpZTt2g — Stephen Nellis (@StephenNellis) May 9, 2018